In good economic climes and bad, UNM branch campuses prepare students for careers in demand, develop a workforce that can meet communities' needs, and support the business community.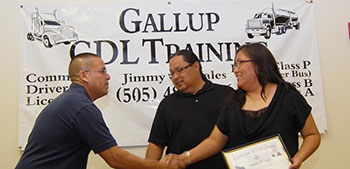 From left: Miguel Cantu, CDL field instructor; Gary Fastwolf,
heavy equipment instructor; and Judith Woods, Top Rookie
of the Year.
Navajo Nation, UNM-Gallup jobs collaboration
The Navajo Nation and UNM-Gallup aim to give hope to jobseekers through a regional partnership. Thirty students recently completed their course of study for heavy equipment and commercial driver license, or CDL, and 29 of them received certificates and have skills that may give them an edge in the current job market.
The classes resulted from an agreement between the Navajo Nation and UNM-Gallup. Sonny Moore, training specialist, is the principal investigator for the Navajo Nation grant that sustains the program. "The CDL/Heavy Equipment training course is the first of its kind in this area," Moore said.
The funds underwrite students' living expenses and overnight travel, as well as instructors' pay and equipment rentals.
Close to 100 percent of CDL class graduates already have jobs, Moore said, while six out of 14 in heavy equipment students also have jobs. To improve their odds of getting a job, a placement officer assists with resumés, cover letters and connecting graduates with potential employers.
Moore said conducting the courses as a cohort – with the same students working through the training – appears to have a big impact on students' success, allowing them to get to know and support one another.
"They've created an environment beneficial to learning," Moore said. "When you know your instructor cares about you and that he wants you to learn and succeed without creating undue pressure, it contributes to the students doing as well as they did. This is especially important since many of these students hadn't been in a classroom in years."
"We're taking a person who's been out of work, looking for a job – in many cases they are single parents. To help them be successful, we have to help them in their soft skills," he said. "By that I mean teaching self-confidence, human relations, personal finances, workforce readiness and a mixture of cultural teaching. In many cases, these students have lost touch with who they are, and we have to build them up again to prepare them to regain entry into the workforce."
Judith Woods said despite being nervous at being the only woman in the heavy equipment course, she found "the guys" supportive of her efforts. Woods regularly asked instructors for permission to practice on the equipment before class to perfect her techniques on the Skytrak forklift, excavator, scraper and motor grader. She was awarded certificates for Top Rookie on all four, meaning she was the most skilled on each piece of equipment. Woods also received the All Around Top Gun award for being the person who earned the most certificates on equipment. She was the first female to be awarded a heavy equipment certificate.
UNM-Taos takes on nursing shortage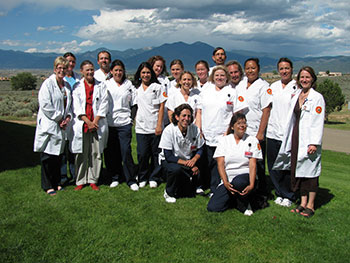 The first graduating class of the UNM-Taos nursing program.
UNM-Taos' new nursing program is a win-win, filling the community's demand for nurses and preparing students in a field where jobs are available. All 14 graduates of the first class passed their national boards the first time out.
"We couldn't be prouder of our students, or more excited for the future of this program and all that it means to our college and our community," said UNM-Taos Executive Director Kate O'Neill. "This is a key component in economic development. Our mission is to train local people so they can live here, learn here, stay here, raise their families here and contribute to the fabric of the community."
"I think we can say it is a measurable example of our program being among the top nursing programs in the nation," said Kathy Falkenhagen, director of nursing and head of the nursing program. "To keep our accreditation through the New Mexico Board of Nursing, we are required to have an 80 percent pass rate for graduates taking their National Council Licensure Exam to become registered nurses. I would say it is very unusual for a new program to have a 100 percent pass rate the first time around. Nationally, the pass rate is about 81 percent. These graduates certainly have set the bar high for future classes."
Now the new registered nurses are in position to give back to a grateful community.
"Ten were hired immediately to work at Holy Cross. One went to Mountain Home Health Care, one will be doing missionary work in India, one student has relocated to Spain to do international nursing, and one student returned to practice in her home town in North Carolina," Falkenhagen said.
With a nursing shortage so severe Taos' hospital has had to bring nurses in from out of state, the economic benefits of the UNM-Taos nursing program are as substantial as its benefits to society. The starting salary for a registered nurse is above $50,000. The 11 new nurses practicing and living in Taos County are good news for both physical and economic health.
UNM-Valencia center supports small businesses
In tough economic times, workshops offered by the UNM-Valencia Small Business Development Center are even more popular among Valencia County clients, said Wayne Abraham, director. They have increased by 75 percent over last year's offerings.
Most workshops offered are free, but a two-day workshop with fees is proving popular. Quick Pro for the Small Business is offered several times this fiscal year, with a fee of $199.
UNM-Valencia's SBDC has provided services to an average of 350 clients per year over the past five years, and the center is on the same pace this year. The service area for the UNM-Valencia center includes Valencia, Socorro and part of Torrance Counties.
The center provides one-on-one business counseling, business plan development, loan package development and market planning and analysis. They also assist clients with how to obtain grants and government contracts. Another popular program helps businesses through the process of exporting goods or services to foreign countries.
Contact the UNM-Valencia SBDC at (505) 925-8980.