"Change the Story" is the theme of the 2011 United Way Fundraiser. In previous years, faculty and staff at the University of New Mexico have demonstrated unprecedented generosity, which has helped change the story for many in our community. 
Following are three such stories.
Agora Lends a Hand
A mother and father call Agora in the middle of the night when their daughter, drunk and despondent somewhere in northern New Mexico, threatens to jump off a cliff. She is depressed, and focused entirely on her failures and disappointments, unable to see the possibility of a good outcome. Agora intervenes and eventually convinces the girl not to jump. They also contact area police who escort her to a hospital. As trained peer counselors, Agora volunteers know that sometimes it is hard to talk about certain problems or issues with family or even friends. Founded in 1970, Agora is one of the oldest crisis centers in the nation. Volunteers, many of whom are students at the University of New Mexico, stand ready around the clock armed with compassion, acceptance and a good ear.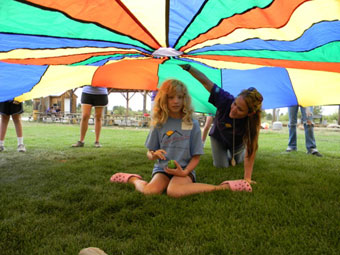 Camp Rising Sun Helps Autistic Children
A family needs reprieve from the aggression, irritability and tantrums that afflict their nine-year-old son born with autism. It can at times be overwhelming to deal with a child who is typically nonverbal and developmentally delayed. They hear about Camp Rising Sun, which provides two, one-week summer residential camping experiences for children with autism while providing respite to their families. As a result of the social programs conducted at the camp, their son comes home with improved listening and communication skills that continue to improve daily.
Camp Rising Sun is a part of the Autism Programs for Development and Disability at UNM. CRS volunteers are university students, community volunteers, and professionals from the community desiring additional experience working with autistic children.
Meals on Wheels Provides Meals for Seniors
Ms. Charlotte, 83 years old, lives alone and subsists on $600 a month. She suffers from diabetes and arthritis, her feet are swollen most of the time and she feels weak and without energy. Ms. Charlotte tells the social worker repeatedly how much she appreciates getting a warm, fully prepared meal every day from the Meals-on-Wheels program. She is relieved to know she has something to eat on a regular basis. For many housebound seniors living alone, the social interaction provided by Meals on Wheels can be as nourishing as the meal itself.
Agora, Camp Rising Sun and Meals on Wheels are just a few of the organizations supported through the Community Fund. Your Community Fund donation supports a network of over 100 agencies providing vital social services to 185,000 people throughout the city—single parents, abused women, young children and teenagers, the elderly, the physically challenged, the homeless and the many new immigrants who need help to realize their dreams of a better life.
Women in Philanthropy
United Way's Women in Philanthropy is about giving women a greater voice. It's about educating and encouraging women to effect change in their community through philanthropy and leadership while engaging in networking amongst women through a commitment to and relationship with the United Way of Central New Mexico. Locally, Women in Philanthropy is a group of more than 2,000 women donors who give $1,000 or more annually to the United Way.  WIP in central New Mexico is the second largest group of United Way women donors in the nation. Through its Women in Philanthropy Council, the UWCNM honors and involves women who strengthen the community by investing and promoting programs that positively affect our Community. The Council is made up of representatives from the four county service areas of Bernalillo, Sandoval, Torrance and Valencia. Members are appointed for a three-year term.  Dr. Loretta Cordova de Ortega, professor and chair for Pediatrics at University of New Mexico Hospital (featured in the above video) talked about UNM's fundraising efforts for United Way at a recent Women in Philanthropy luncheon.
United Way Community Fund
Additionally, each year, volunteer panels of local citizens review and make funding recommendations to the UWCNM for the Community Fund. These volunteers play a vital role in ensuring your donation dollars are spent according to current and emerging community services most in need.
With the way things stand these days, it might be hard to believe that there is an organization whose basic goal is to encourage charity. But for 123 years, the United Way has existed for just that reason.
Whether you donate $5 monthly via payroll deduction, or make a larger one-time payment using the Pledge Form, know that your gift will help change someone's story.
For more information, contact Campaign Coordinator, Connie Beimer at (505) 277-0204 or e-mail to unitedway@unm.edu