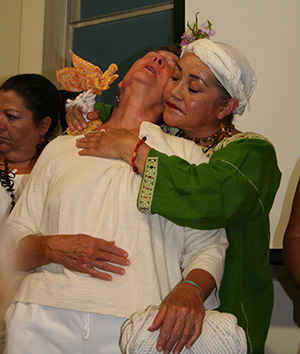 In July, curanderos arrive at UNM. Clacking skateboards and cell phone conversations are replaced with the gentle voices of the brightly dressed curanderos, striking in embroidered white cotton shirts, blouses and dresses. Feet more familiar with walking on the earth traverse the campus hardscape, heading to the Anthropology building where they both learn and assist others in developing skills as traditional folk healers.
Natalie Brigance, Torres' executive assistant, said they housed 38 curanderos from Mexico and enrolled 102 students on campus and an additional 31 from Continuing Education. "But Cheo invited lots of other people just to drop in, so the room was often full," she said of the classroom that seats 290.
Eliseo "Cheo" Torres, vice president for student affairs, teaches the course each summer, transforming himself from administrator to healer and teacher. He's established a network of curanderos who come from native and mestizo Mexican communities – Oaxaca, Cuernavaca, Tepoztlán and Amatlan. They share with each other and the students and guests of Torres's class – co-taught with Arturo Ornelas, Traditional Medicine without Borders: Curanderismo in the Southwest and Mexico – traditional Mexican healing therapies, herbal medicines, spiritual cleansings and other healing techniques.
They set up a combination school, pharmacy and market inside the classroom and out into the hall. The classroom isn't the only place they learn. They did spiritual cleansings at the Duck Pond, encircling each person with cleansing smoke. They held health fairs – ferias de salud – at the Student Union Building, La Plazita and the National Hispanic Culture Center.
Tonita Gonzales is a local curandera who participated. She also organized the health fair at the NHCC. "We had 40 Mexican and 30 local curanderos. We were set to begin the health fair at 5 o'clock, but by 3, we had 150 people waiting, so we started at 3:30. We logged 1,497 treatments by 11:30 p.m., but I am sure that it was at least 1,500 because a few slipped in at the end," she said.
Asked if they saw many of the same complaints or illnesses, Gonzales said, "We don't use labels in diagnosis. We look at the eyes, tongue, skin, hair, ask about their energy levels, because unhealthy can be physical, spiritual, emotional or mental," she said. She said that if someone with diabetes came in, they wouldn't just look at their sugar issues. "We would look at the emotional issues they face with it and whether or not they have sweetness of life," Gonzales said.
Gonzales said that curanderos are good listeners.  "We don't treat a symptom. We look at the entire person. If someone has back pain, does he remember when it first happened? What are his stress levels?" she said.
She said that every culture has elements of a sweat lodge and use of healing herbs. "True curanderos channel, but healing comes from within the person. We can teach you to heal yourself. People can learn to make changes on their own," she said.
Gonzales said that one day while the curanderos were sitting outside having lunch, was drawn to a group of students. "She approached them and told them who she was. She picked up on their stress – they had a final later that day. She helped them relax, and the students were grateful," she said.