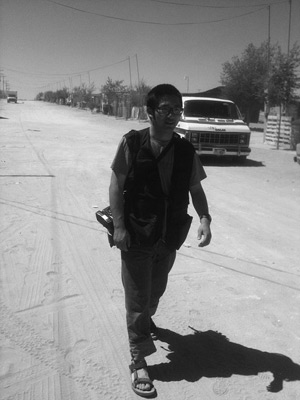 Junfu Han tells art students he's a journalism student and journalism students he's an art major. On the books he's a senior in art and art history, but his work and his heart cross disciplines.
Han was the Daily Lobo's photo and online editor this year and is multimedia editor this year. "I work with everybody to try to get professional photos ethically. I want them to use their own eyes to look at a story visually," he said.
Han is from Hangzhou, China, about 120 miles south of Shanghai. He attended a technology school in China and then worked for three years as a database engineer. "That was when I first thought about working on a newspaper. I didn't want to be in an office all day," he said.
He looked at photography schools and noted that UNM's program was in the top five nationally as well as the least expensive.
"I discovered I liked Mexican food, so I decided I wanted to try real Mexican food. I bought a $50 round-trip bus ticket to Juarez even though I didn't know any Spanish," he said. He found more than tacos al pastor.
His trip to Juarez helped shape his perspective on the border. "I'd been to the China/Vietnam border, and China's borders with North Korea and Tibet. I'd seen walls dividing lands and two peoples and the cultures that exist along a manmade wall," he said.
He came into contact with Better Together Mexico, a missionary group. His previous experience freelancing as a crime scene photographer landed him a gig documenting the group's trip to a prison in Cuauhetemoc, Chihuahua. That group also worked with a church in Anapra, a colonia on the edge of Juarez.
"At the church, the volunteers served food, helped kids with homework and stuff like that. They invited an artist to come to the community center to teach painting and drawing. I asked if I could join to teach photography," Han said.
"My friends worried about me going down there because of the violence in Juarez and because I don't speak Spanish, but there is a language we all speak. A smile overcomes all barriers," he said.
The kids used his camera, so when he came back to Albuquerque he bought some point-and-shoot cameras at a thrift store. "I taught the kids how to use them and told them to take pictures of their families. They did a good job," Han said.
He also had them do an "On My Way Home" photo series. It reminded Han of a quote from Pablo Picasso, "I spent four years learning to draw like Raphael, but it has taken me a whole lifetime to learn to draw like a child."
"I need to be more creative and the kids inspire me," Han said. One of those kids is eight-year-old "DJ," who painted a picture of Anne Frank. Why her? Han asked. "She said her mother told her stories about Anne Frank and that those stories reminded her of her own life because parents are afraid and lock the kids in the house."
He posted the children's photos online. His efforts jumped from Web to print when some of the photos were published in Southern Weekly, a GuangZhou, China, newspaper.
This summer, Han is doing a newspaper internship in Connecticut. He will be on the east coast but his heart will still be on the U.S./Mexico border. He's interested in exploring the issue of orphans in Mexico. "There are more than 2 million children in orphanages in Mexico, with more than 2,000 in Juarez," he said.