For the second year, the UNM Department of Theatre and Dance partners with the New Mexico Rail Runner Express in Shakespeare on the Rail. The production gives UNM students a unique acting and directing experience while introducing Shakespeare to audiences who may never have experienced live theatre, as well as reacquainting theatre-lovers with favorite scenes in a new setting.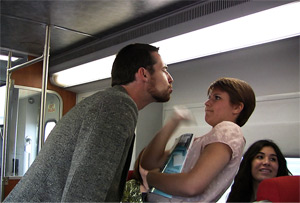 On the first day of performances, the bard car was packed with passengers looking for a Renaissance fix. Actors expertly negotiated the overflow audience standing in the performance areas. They know unpredictable circumstances can be both a challenge and reward of site-specific performance.
The scenes from Shakespeare's plays are performed with the original dialogue in a modern context, using the space of the train car in site-specific theatre – theatre that takes place in nontraditional situations. Founding director Lauren Albonico said, "We've taken the scenes out of the context of their original plays, and the characters are like the characters you would encounter on the Rail Runner."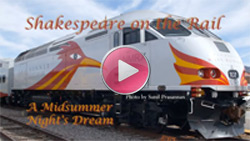 University of New Mexico students perform a
scene from "A Midsummer Night's Dream" on
the NM Rail Runner.  Sponsored by UNM's
Department of Theatre and Dance.
Albonico recently received a Master of Art in theatre outreach and education from UNM's Department of Theatre and Dance.
Actors make full use of the train setting, hanging on the poles in a dramatic pose or bending down to speak the lines as conversation to specific passengers. Director Sarah White said, "You feel like you're one with the character because you're so close to them… You can understand the language because you're in it with them."
A few changes have been introduced this year. Nick Salyer, a returning actor from last year's production, said the group chose more comedic love scenes this year, because the lighter tone seemed a better fit for the context. Salyer acts in both the comedy and love scenes this summer.
Other changes resulted from practical considerations learned by experience. "Last year we had a different set of scenes for each month, which meant that we were constantly rehearsing, getting ready for the next month. This year we decided to split the summer in half," Albonico said. "This way it was easier for us to manage, and I think six-week runs are more in tune with how often people ride the Rail Runner during the summer."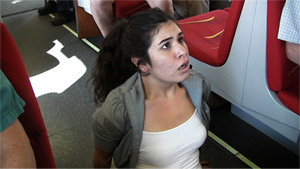 Though she created the project, Albonico wants others to take ownership of Shakespeare on the Rail so it will grow beyond her. She said she's "delegating a bit more so that it is not solely my project but can be run by others as well, which helps its chances of success and expansion in the future." White, last year's assistant director, is directing love scenes this year, while Albonico directs the comedy scenes.
Shakespeare on the Rail runs every Saturday, June-August, on northbound trains departing downtown Albuquerque at 2:38 p.m. and southbound trains departing the Santa Fe depot at 4:32 p.m. Performances take place on the bottom floor in the first railcar directly behind the locomotive.
Performances, free with train fare, feature love scenes June through mid-July and comedic scenes mid-July through August. The love scenes are from "Romeo and Juliet," "Much Ado About Nothing" and "A Midsummer Night's Dream," performed by Salyer, Stephanie Grilo, Graham Gentz and Alexandra Ceja. The comedy scenes are from "Love's Labour's Lost," "Comedy of Errors" and "Merry Wives of Windsor," performed by Salyer, Quinn Rol, Van Hollenbeck, Christie Carter and Katherine Ygbuhay.