Remember 7th grade social studies and learning about Alvar Nuñez Cabeza de Vaca? He was the Spanish explorer who landed in what is now Tampa Bay, made his way to Galveston, but most of his men didn't. You probably didn't learn about Cabeza de Vaca's expeditions in South America.
The explorer's 500-year-old accounts have never been available in English, until Baker Morrow, landscape architect and founding director of the UNM School of Architecture and Planning's landscape architecture program, took up the task to translate the accounts into modern English. Morrow's book, "The South American Expeditions, 1540-1545, Alvar Nuñez Cabeza de Vaca" is more than translation.
"There is a Victorian era English translation of the account, but the preface was left out – it doesn't show up in many Spanish versions, either. In it, Cabeza de Vaca is courting favor with the Spanish king," Morrow said.
Morrow said that Cabeza de Vaca's words are contradictory to how the explorer's life is portrayed in 20th century accounts. Those accounts indicate he was deposed by his own government, sold down the river to Ascención then to Buenos Aires. From there he was sent back to Spain to discredit him.
"It's a great line – 'home in chains in disgrace.' They say he was tried by the Council of the Indies and died a poor, lonely and broken man in southern Spain. But it's nonsense!" Morrow exclaims.
Morrow said that Cabeza de Vaca returned to favor in the eyes of the Spanish court and became a representative to the Spanish court from his town.
Morrow thinks that because the court cases are written in esoteric language, perhaps they just weren't well understood.
"He was a nice guy for the 16th century," Morrow said. "He was tremendously fair to the Indians. He punished his men when they stole from them and made them pay the Indians for lodging, food and for using them as guides."
"He was not a great conquistador, but he was a great explorer," Morrow said. Cabeza de Vaca's South American explorations were in areas now part of Paraguay, Brazil and Bolivia.
"Cabeza de Vaca wrote like Churchill – through transcription. He dictated his notes to Pero, who's respectful and mostly writes 'the governor,' not Cabeza de Vaca," Morrow said, adding that "Pero" is, or at least was, a diminutive of "Pedro."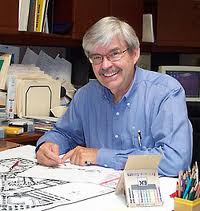 How does a landscape architect delve into the world of a Spanish explorer in South America? He'd been interested in Cabeza de Vaca since his father and grandfather told young Baker about him as the great Southwestern explorer in the 1500s. He taught a course about Latin American landscape architecture, which is the only course that looks at the development of landscape architecture from pre-Colonial times to the present.
"North America was a primeval landscape when the Europeans arrived," Morrow said. The book, "Harvest of Reluctant Souls," by Fray Alonso de Benavides described the New Mexico landscape in the 1600s. Morrow translated that text, as well. The more he read, the more Morrow wanted to know about the places and landscapes.
"Cabeza de Vaca's details of flora and fauna required a map," he said. He said there are multiple editions of the accounts in Spanish with maps, but none of the maps clearly define places names and people as they are known today.
 "It took three to four years to review maps of the voyage from Spain to Buenos Aires. Places Indians told him about and the names of the tribes themselves varied from one mention to the next," Morrow said.
Morrow looked at old maps, new maps, compared the data against how far Cabeza de Vaca's men walked in a day to create an approximation of where things are.
"There are so many rivers, creeks and mountain ranges to look at, plus 500 years of name changes," he said.
Morrow said that he was able to conduct most of his research at the University Libraries. "They have a fabulous quantity of books and research material on the Spanish conquest, including the entire series of court cases against Cabeza de Vaca," Morrow said.
"He documented his explorations at a time when there was no such thing as a travel book or memoir. It is unusual in exploration and conquest. Cabeza de Vaca created a saga of North and South America that is unique in world literature," Morrow said.