With the general election days away, there's more than a just presidential race at stake over the direction the country should go. At the University of New Mexico, the future for thousands of students as well as the ability to deliver top-notch research instruction, hinges upon General Obligation Bond C for Higher Education. 
Bond C for Higher Education, if it passes, will be worth $24.5 million to UNM for a variety of sorely needed renovations and repairs including $19 million at UNM's main campus, while $5.5 million will go to the branch campuses at the Gallup, Los Alamos, Taos and Valencia.
<

On main campus, over the past several years, enrollment in the UNM's Chemistry Department has grown by more than 80 percent contributing to an overall double digit enrollment increase in the College of Arts and Sciences. In addition to Clark/Reibsomer Hall, which houses the Chemistry Department, the facility is used to train students in Engineering, Biology, Physics and Astronomy, Biochemistry and the pre-health professions.
Chemistry at UNM supports economic development and partnerships and collaborations with the national laboratories, and the private business sector to provide well trained employees in industries vital to New Mexico's economic growth.
As one of the "central sciences," chemistry, simply said, lays the foundation for all branches of health, science and engineering. The department also provides service courses for more than 5,000 additional students across campus. Think about all the different careers that encompasses.
This growing student enrollment has placed significant pressure on existing facilities to support research and instruction. Nevermind the fact that the Clark/Reibsomer Hall, which houses the Chemistry Department at UNM, is dilapidated and hasn't seen a major renovation since the edifice was built more than 40 years ago.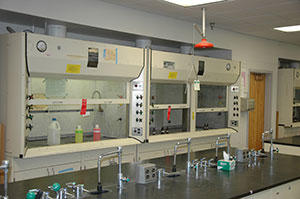 Hoods at Clark/Reibsomer Hall are red-tagged and
unusable because they don't meet state and federal
safety standards.
Built in 1969, Chemistry's labs and classrooms cannot accommodate modern research instrumentation. The available space is fully used with no room for expansion. Researchers and students must navigate a warren of small rooms with inadequate cooling, power and computer data access.
In desperate need of significant renovation for more than 20 years, Clark/Reibsomer does not currently meet state and federal safety standards for HVAC, air quality, power and environmental concerns. Funding from GO Bond C for Higher Education will alleviate major safety concerns and provide a greatly improved environment for New Mexico's future chemists.
"The poor condition of Clark/Reibsomer Hall limits our ability to attract and retain top-flight faculty and students," said Steve Cabaniss, chair, Department of Chemistry and Chemical Biology and professor of Environmental Chemistry. "One nationally-prominent chemist with ties to Albuquerque indicated that he could not consider moving his lab and students to UNM because our research lab space is in such bad shape.
"The passing Higher Education Bond C to renovate Clark/Reibsomer is two-fold. It will provide the opportunity for UNM to compete with other public universities for faculty and research grants, and will enable instruction and research of junior and senior undergraduates in modern facilities.  If the bond fails, those faculty and grants will go elsewhere and our students will be at a disadvantage in the job market relative to those from other schools. Additionally, it will also affect the State of New Mexico since those research dollars will go somewhere else."
The Department of Biology is the largest department in the College of Arts and Sciences, serving approximately 2,000 students, 90 percent of whom are from New Mexico. Over the past 10 years, biology majors have increased 275 percent. Additionally, the biology department generates UNM's highest annual research funding of more than $15 million in grants per year.
Higher Education Bond C funding will help build-out the first and third floors of Castetter Hall, and complete upgrades to improve overcrowded and outdated labs, eliminate the need to store equipment in halls and eliminate the need for offices to serve as resource libraries, and to accommodate projected growth of 10 percent through 2014.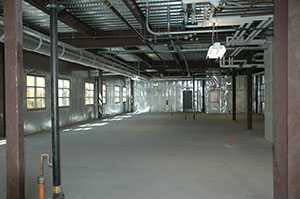 If Higher Education Bond C passes, the first and
third floors of Castetter Hall will be built out with
classrooms, labs and office space.
"The Department of Biology is one of the most research-active units on campus, generating more than  $15 million per year in grant support and over 100 scientific publications per year – all while training 1,700 undergraduate majors, and a wealth of pre-professional students," said Richard Cripps, Biology Department chair and professor. "Much of this activity takes place in aging facilities that are desperately in need of expansion and renovation. Completion of the Castetter Hall addition will generate state-of-the-art laboratory resources for our faculty and their students to advance biomedical knowledge and to better understand the changing world around us. 
"Through our expanded facilities, we will be better able to train more undergraduates in research skills, that will enhance their graduation success and make them more competitive for top graduate programs in the country. Successful funding of this Higher Education Bond C will therefore enable us to train the next generation of diverse scientists who will lead us through this next century."
Investing in state institutions of higher learning keeps the brightest students in New Mexico, creates a better workforce and attracts better paying jobs – all of which positively affect the state's economy.  Better education positively impacts every single New Mexican. 
Additional benefits of Higher Education Bond C
UNM Branches
UNM-Gallup - $1 million for water/sewer upgrades including infrastructure improvements to utility and fire suppression systems.
UNM-Los Alamos - $500,000 to renovate and equip science laboratories.
UNM – Taos - $3 million to renovate and upgrade campus lighting and signage, infrastructure and parking lot and drainage.
UNM –Valencia - $1 million for infrastructure improvements including roof replacement, heating, ventilation and air conditioning system upgrades, plumbing upgrades and construction of a loop road and parking lot.