Breaking from the traditional class structure can infuse students with a passion for learning. UNM?s Research Service-Learning Program does that by engaging students in community work that touches real lives. In the Lobo Gardens course, students cultivate community as they cultivate earth.
?They understand that the work that they do and what they?re learning has meaning beyond the classroom. They can work with others in the real world to solve real world problems,? said Andrew Marcum, a teacher of the course and doctoral student in the Department of American Studies.
Guest lecturing in the class is Dan Young, director of the Research Service-Learning Program. Young said students in Lobo Gardens work both with ?traditional texts? like books, ?which tell us what other people think, how they theorize and how they make sense of the world,? and with an expanded idea of texts. ?How do you read a place, how do you read an agency you?re working with, or a neighborhood association or a garden, how do you make sense of that?? he asked.
That additional dimension of ?texts? benefits both high-achieving students and students who struggle with traditional academic courses. Young said the class gives some students a chance to excel that they may not have experienced before in academic contexts. ?A lot of these kids who are less educationally privileged are more experientially privileged than some of the higher GPA students, because they?ve actually done work, they?ve actually lived and observed in rural areas and they understand some things and bring some experiences to the mix that are valued in these courses,? he said. On the other hand, ?It allows the kids who are good at conceptualizing to see how those ideas are actually grounded in reality.?
The World in a Garden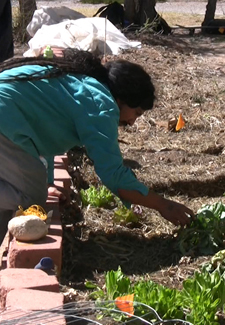 Through experiential learning, students do concrete work that reveals broader concepts. ?We can take something like Lobo Gardens and see that as part of a larger movement to create healthier communities, more sustainable communities through food. Because food is something that draws us all together, right? It?s necessary for everyone. And it?s implicated in our history, our culture, our politics, our economics. So there are all those rich frames that you can introduce to students through that vehicle,? Marcum said.
After taking the Lobo Gardens class last summer, Mona Angel now works for the program maintaining the gardens outside of class, as well as serving as one of several community mentors working with students. Angel initiated the Extreme Local program with Chartwell?s dining services, bringing Lobo Gardens produce to students? plates.
?Extreme Local means it?s 200 yards away,? Young said. He said this project adds an economic component to the initial concepts of social change and community health. ?Chartwells is a real client for the garden,? he said. ?The dimensions of this project are becoming richer.?
The course has practical implications for students entering any field. ?We learn that if we?re going to put a garden in a particular place we need permissions from Planning and from Physical Plant,? Young said. ?Knowing that and actually having worked through some of these negotiations and discoveries, finding out what the current restrictions are and so forth really helps students in any field they might get into where they?re going to run up against regulatory boards or licensing agents or any sort of constraint on one?s action.?
A Garden Path to College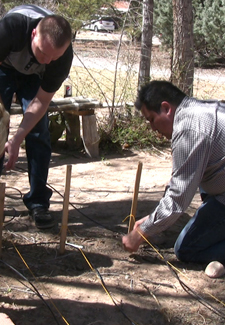 Students work at one of three sites on campus or at South Valley Academy?s Dragon Farm.
Working with younger students off campus brings extra benefits. At Dragon Farm, Marcum said, ?the high school students understand, hey, this is what college can be about, it?s not just about books and lectures and other things, it can be about whatever I?m interested in and what I?m passionate about.?
Those primary education partnerships are growing. ?We?re in the process of working with Wilson Middle School to have a middle school component there. Highland High School is already connected. Their industrial arts department there makes planter boxes, so they?re involved in the project as well. They?ve been really good partners there,? Young said.
Marcum said working with students in the gardens brings knowledge that?s harder to gain in a traditional classroom setting. As a result, teachers can identify students? talents and start mentoring them early, and mentoring can help college students stay on the path to graduation.
History of a Garden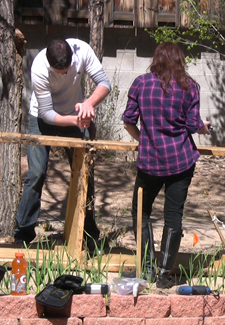 The Lobo Gardens program was woven from two disparate threads. Young said food issues and community gardens have been part of the Research Service-Learning Program from the outset, beginning with a summer 2006 course taught by David Hilliard, one of the founders of the Black Panther Party. From that course grew the idea to bring back a garden at Project Share that had gone to seed.
But campus gardens didn?t become a recurring part of the curriculum until a student group called GROW, Gardens Raise Our World, made an attempt to create a salsa garden and were rebuffed because of liability concerns.
Marcum and others saw a chance to turn the loss into a greater gain. ?How can we take this opportunity to make gardens a part of campus learning at UNM and help the university understand that the students? desire to have a garden is really in line with the university?s missions? education, public service and public health. I see gardens as at the intersection of all three of those core missions.?
A meeting of faculty, students and other stakeholders was held to find a practical way to implement campus gardens. Student and GROW founder Travis McKenzie said, ?We got to envision and dream, what would a garden be like on campus? How would it function? What?s important for students? And my emphasis was, well it?s important that we have classes so students can actually take a garden class and learn how to garden, we could be teaching students about sustainability and about growing food for yourselves, water and history ? there?s a lot of things that tie into gardening.?
The Lobo Gardens course has been offered every semester since spring 2010. They started with the Real Estate Office?s backyard and a planter in Hokona Hall?s courtyard, and they plan to keep adding new sites. They hope someday to help create community gardens throughout the state.