Everyone's a Lobo, but not every Lobo is the same. Luckily students, along with UNM and its neighbors, are creating communities as varied as the students themselves.
Neighbors lay out the welcome mat
It is easy to see how a student would find a home-away-from-home at the community-centered Hot Spot Nutrition. Images from pin-up girl posters decorate the menu and give the nutrition club a warm and vintage vibe. The owner even remembers every customer by name.
"We have about 80 regular customers," said Desirae Gallardo, owner and manager of Hot Spot, who opened the store in January 2011. She decorates seasonally and comes up with events and activities to keep people motivated and involved. In the past she has set up Zumba classes, '80s nights and weight loss challenges.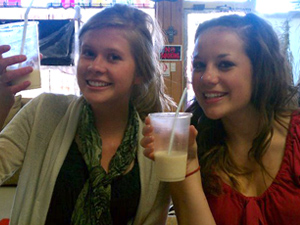 Hot Spot Nutrition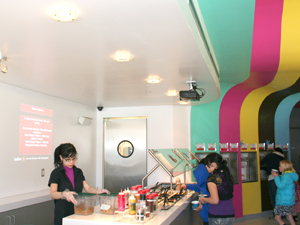 Olo Yogurt Studio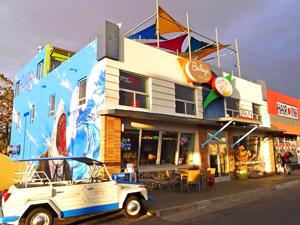 Bailey's on the Beach
Gallardo said these things help people feel like a part of a community and a team dedicated to health and wellness.
After a year, Hot Spot's reputation is still growing. "I usually go to Hot Spot with the same group of friends, but you always run into new people there," said Katie Lichte, UNM student and Hot Spot customer. "Everyone enjoys one another's company. Even the owner remembers all her customer's names. It makes you feel special."
Another student hangout that is quickly gaining popularity is Olo Yogurt Studio. Founder Paula Pope is a UNM alumna who developed an intense love for "froyo" – frozen yogurt – and wanted to bring the sensation to Albuquerque.
Pope and her husband Matt joined forces with couple Precious and Tom Haines to create a frozen yogurt studio that would create a sense of community in the university area. "We never wanted to take ourselves too seriously," Tom Haines said. "We like to keep things light and funny. After all, we are a yogurt studio."
The owners are proud to be an independent shop. They said it lets them operate the way they want. They try to run their business in a way that would make them happy as consumers.
"I like Olo because of the atmosphere, and it's a great place to go with friends," said Layla Finch, UNM student and Olo customer. "They always have fun and inventive things going on."
Bailey's on the Beach, a beach style restaurant with a rooftop patio, is another example of the ways UNM students can find a home off campus. Their menu features American, breakfast, Mexican and seafood.
Bailey's on the Beach is experimenting with different ways to become more of a community center for the university. "We have free Wi-Fi, so I know people like that," said Kirk Clark, general manager. He said customers often hang out at the restaurant for hours at time, something that makes employees happy.
One university, many communities
Thanks to restaurants like Hot Spot Nutrition, Olo Yogurt Studio and Bailey's on the Beach, UNM students have plenty of places to hang out off campus. But ample places are on campus to enrich the college experience.
"Feeling like part of a group or community helps you broaden your horizons," said Tony Patton, UNM student. "It makes you feel welcome."
Zimmerman Library, the largest of four libraries on main campus, is centrally located and is a convenient resource for many UNM students. In 2011, gate counts for the library topped more than 1 million visitors.
Students visit Zimmerman to do research and scholarly work, to use study rooms, computers, printing services and free tutoring at CAPS, Center for Academic Program Support, or to grab a cup of coffee on the way to class.
"I really enjoy the late night access the library offers," said Tina Faris. She said she frequents the library for many reasons. "In combination with late night Starbucks, it's a win-win situation."
Zimmerman Library is one of the top destinations for students while they are on campus. In the past few years the library has taken extra care to improve based on student feedback.
Teresa Neely, director of learning space initiatives, said the library works hard to make sure UNM students enjoy their use of Zimmerman. "It is important that students have a place they know they can study," she said.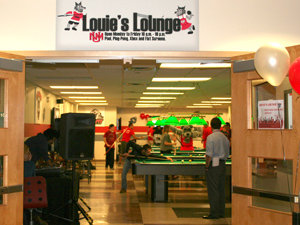 Another hangout is the Student Union Building. The SUB includes food venues, student organization offices, a credit union, a convenience store, tables, comfortable chairs and seating areas, ballrooms and conference rooms, an outdoor patio, and the new Louie's Lounge.
The SUB promotes a strong sense of community, student life and an appreciation for diversity. "It gives me the sense that I am living the college experience," said Patton of spending time in the bustling student center.
The games room at the SUB was reinvented as Louie's Lounge based on student surveys. Apart from a striking new look, Louie's Lounge improvements include new, larger televisions, an XBOX 360 Kinect, nine pool tables, four ping pong tables and a seating area. XBOX 360 Kinect games include NCAA Football 12, FIFA soccer 12, SSX, Forsa, Wipeout, Dance Central, UFC 3, NBA 2k12, Kinect adventure and Call of Duty Modern Warfare 3.
More student community hubs
In addition to these five student hangouts, UNM students can feel like a part of the rich university community at many locations on and off campus. Other popular student hangouts include:
On campus:
Dane Smith Hall
Duck pond
Johnson Center
La Posada and residence halls
UNM Bookstore
Off campus:
Frontier Restaurant
Fuzzy's Taco Shop
Pita Pit
Which Wich