For more than 75 years, the United Way of Central New Mexico (UWCNM) has been in the business of helping the most vulnerable among us. Their efforts are focused on improving the building blocks for a better life – education, health and self-sufficiency.  Now, in concert with UNM and many other partners, they are adding a new community-wide effort focused on education support. It is called the Central New Mexico Education Support Initiative (ESI).
ESI focuses on improving graduation rates. The complex issues in human service and in education result in too few students graduating. Improving graduation is already a shared goal of the school districts and higher education institutions.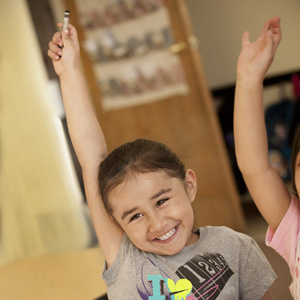 As one of the first steps in the process, UWCNM hired University of New Mexico's Bureau of Business and Economic Research (BBER) to conduct an education needs assessment in Bernalillo, Sandoval, Torrance and Valencia counties.
The objective of BBER's research was to identify where UWCNM's investments would have the greatest impact. The focus was on 'student readiness' rather than on activities for which education professionals are directly responsible, such as curriculum design. 
The results are comprehensive and can be read at: Education Needs Assessment.

UNM's Center for Education Policy Research (CEPR) recently joined the Education Support Initiative and conducted a study guided by two overarching questions: "How are the students doing?" and "How well are the institutions collaborating with each other?" By integrating these two parallel analyses, they found data could be used to drive policy and decision making to improve education.

"This is a community that cares about its students and is committed to improving the future," UNM-CEPR director, Peter Winograd said. "It is clear to all of us that more students need to graduate from high schools, community colleges and universities. It is also clear that schools, colleges and communities must work together if they are going to make a meaningful difference for students."
"United Way appreciates the substantive support of UNM for the Central New Mexico Education Support Initiative. BBER and CEPR are wonderful assets in this community and we are grateful for their valued expertise in continued commitment to this important community-wide effort to improve education outcomes," said Ed Rivera, president and CEO, UWCNM.
In addition to UNM, the Albuquerque Public Schools, Central New Mexico Community College, government groups, as well as nonprofits have joined forces to support ESI. The collective hope is to develop pragmatic goals, reasonable measurements and shared accountability along the entire continuum of a child's education, from cradle to career.
"We believe that the Central New Mexico Education Support Initiative is one of the most important and comprehensive efforts to improve education, because it brings so many people to the table to work together," Winograd added.