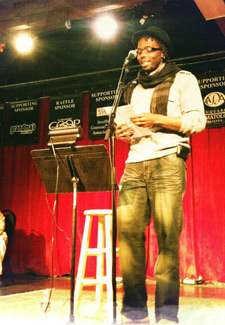 In his inaugural speech during National Poetry Month, UNM graduate student Hakim Bellamy said that in the context of "a history of marginalizing" poets of color like Langston Hughes as "great American 'black' writers, rather than just great American writers," he is "deeply honored to be able to tell my grandchildren that I wasn't just the first black poet laureate of Albuquerque. I was the first poet laureate of Albuquerque."
Bellamy transcends boundaries every day as a poet, scholar, musical artist, actor, community organizer and journalist. He takes poetry beyond traditional venues to places like schools and prisons.
Prison inmates "become erased… especially if they've committed felonies, and they get disenfranchised and lose their right to vote," he said. They're "made to believe they'll never contribute again. And I think what poetry gives them a chance to do is contribute, even if it's just telling their story." Some of those stories have reached at-risk youth through collections, including one published by the New Mexico State Office of African American Affairs, where Bellamy was community outreach coordinator.
Breaking poetry out of conventional spaces is central to his plans as Albuquerque poet laureate. "I feel like my duty is to try to make poetry matter to populations it doesn't already matter to," he said. "It certainly is the most easily accessible, populist form of art… With poetry you can just do it, you can do it with nothing, and I feel like that's what makes it really the people's art form."
Academic Insight into Poetry for the People
Bellamy moved to New Mexico from the east coast in 2005 and started at UNM that spring, originally with a health communications emphasis. He received a bachelor's degree in biology with a minor in media arts communications at Lees-McRae College. Soon after starting at UNM, he got job in the KUNM radio newsroom, where he shifted his focus to mass communication.
The "critical lens" he has been exposed to as a master's candidate in UNM's Department of Communication and Journalism shifted Bellamy's perceptions. "My first year in this program, I think my paradigm on life changed a lot. That's also when I started doing poetry seriously, too, so there were a lot of changes," he said.
"Those classes in journalism made me go further and further down the rabbit hole. So I can't believe everything I'm told by the media. I should find out the story from 10 people instead of taking it for granted from one person, because all 10 people are going to have a different experience, a different lived reality."
He applies that critical lens to the poetry slam community in his thesis project on how identity is created through language, focusing on how the "space of the poetry slam creates identity for all the actors involved: the poets, the audience members." Ilia Rodríguez, associate professor in the Department of Communication and Journalism, is Bellamy's thesis director.
The research is based on his observations as a participant, focus groups and interviews with poets. As a long-time member of the community, Bellamy thought he knew what he would find, but what he learned expanded his perspective. "The more you talk to people who have different experiences and different positions in it, you end up finding out more than you thought and considering the community differently," he said.
Other Faces of the Poet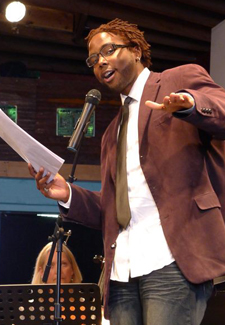 Bellamy works as strategic communication director at the Media Literacy Project at Albuquerque Academy. He said it's similar to work he does independently as an artist and organizer. "It's all about voice. It's all about making sure people of little means have as much access to communicating and sharing their opinions as people with many means. I feel like as a poet, I do that all the time. I get people to pull out pen and paper and communicate and hope that their voice can be as loud as Rupert Murdoch's, even though they don't have TV stations and newspapers to do it with."
Creativity is also a family enterprise for Bellamy. Like his own parents, he encourages his young son to find his talents. "I try to make sure he's exposed to a million things, and hopefully one will stick, because that's what my parents did," he said. "I have two younger brothers, so we did tap, flute, piano, a little bit of martial arts, and then all the athletic stuff like swimming, baseball, soccer." His son is in a hip hop dance class, and Bellamy is looking into voice lessons "because he tends to sing quite a bit."
Bellamy's appointment as Albuquerque poet laureate is only the most recent of many accolades. He's a national and regional poetry slam champion and holds three consecutive collegiate poetry slam titles at UNM. He received an honorable mention for the UNM Paul Bartlett Ré Peace Prize for his work as a community organizer.
Bellamy's upcoming appearances include New Mexico Jazz Festival performances on Saturday, July 21, at 6 p.m. on the Nob Hill Summerfest stage and Sunday, July 29, with poet, jazz critic and retired National Endowment for the Arts administrator A.B. Spelman at the Outpost Performance Space, 210 Yale Blvd. SE.