It's Homecoming 2012: LOOK! UP IN THE SKY! It's a bird! No—It's a plane! No—It's "Super U!" Year after year since 1925, the University of New Mexico has celebrated Homecoming festivities welcoming back its alumni and the campus community. Each year the themed celebration has culminated with the tradition-rich football game and all its pageantry. 
This year, the University of New Mexico is preparing for its 88th annual Homecoming celebrating the theme: "Super U." The festivities, which take place the week of Oct. 1 -7, look to save and build the school's spirit anew.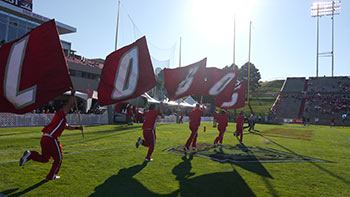 More than 50 separate events, most held on campus and free to all, will take place during the fun-filled week. The featured celebration takes place on Saturday, Oct. 6 at 4 p.m. when the Lobos take on the Bobcats of Texas State at University Stadium, which will include the coronation of the Homecoming king and queen during halftime of the football game.
"Each year, the Homecoming Committee challenges campus constituents to show their superhero Lobo spirit by participating in homecoming events," said UNM Alumni Association Program Director Sue MacEachen. "Our 'U' theme is back, 'Super U,' as your University of New Mexico shows off its super feats on the field, in the classroom, and in the community.
"Our super students are back in school, putting their powers to the test in the classrooms, our fantastic faculty is challenging their limits and our super alumni continue to prove their extraordinary talents beyond the walls of UNM."
The week gets underway Monday, Oct. 1 with the Alumni Association's Community Service Project. With many Albuquerque Public Schools' families in need of assistance, the UNM Alumni Association is looking to help out. This year, as part of its Homecoming activities, the UNM Alumni Association's community service project will gather much-needed donations benefiting the APS Homeless Project.
Donations benefiting APS' Homeless Project should include travel-size toiletries such as shampoo, conditioner, soap, lotion and toothpaste. Everyone who donates an item will receive a special UNM Homecoming pin.
The UNM Alumni Association will collect items at the Alumni Center at Hodgin Hall beginning Monday, Oct. 1. For a list of other dropoff locations, visit: Community Service Project.
On Tuesday, Oct. 2, grab your mask and cape and join your Staff Council in Lobo Metropolis on the southeast side of the SUB. Lunch will be available for purchase from 11:30 a.m. - 1 p.m. For only $5 you can purchase a fresh, grilled burger or hot dog, chips, ice cream and lemonade. Vegetarian options will also be available. Come out, eat and listen to some of your favorite tunes.

If you're feeling like a Super Hero, you can participate in a costume contest during the barbecue. Come dressed as your favorite Super Hero or come dressed to impress showing your Lobo Spirit. Participants can enter to win in one or both categories. Winners will receive a trophy, a $50 gift card to the UNM Bookstore and other great prizes. Lobo Louie will help select the winners. At the barbecue, you can also sign up to win some great door prizes!

Also, on Tuesday, be a super hero by donating blood in the United Blood Services van from 10 a.m. to 2 p.m. com
On Wednesday, Oct. 3, students can vote on the UNM Homecoming royalty in the Student Union Building from 9 a.m. to 5 p.m.
The first-ever Lobo T-shirt Swap takes place on Smith Plaza Thursday, Oct. 4 from 11 a.m. - 2 p.m. Bring your washed Lobo T-shirts in good condition to trade with others on campus. They don't have to have Lobo logos on them, they just need to be UNM themed events. Bring in five shirts - pick up five shirts! You are also welcome to just bring in UNM Shirts without swapping. Freshmen students will get to choose a shirt without having to trade in a shirt from 1:45-2 p.m. Any shirts that are left over will be donated to the APS PTA Clothing Bank. For more information, visit:  Lobo T-shirt Swap.
On Thursday, Oct. 4, several educational lectures will be featured, including The Robert Wood Johnson Foundation Center for Health Policy Lecture, "Prevention Research with Tribal Communities," and the School of Public Administration's Arthur Blumenfeld Lecture Series. The Black Alumni Chapter will recognize James B. Lewis, New Mexico's first Black State Treasurer, and Joe Powdrell, longtime community activist and entrepreneur. 
On Friday, Oct. 5, it's Lobo Spirit Day. Faculty, staff and students are encouraged to wear red on campus to show off their Lobo pride. All are encouraged to join students for a pep rally at noon in the Atrium at the UNM Student Union Building to help send the Lobo teams to victory. Many reunions and receptions will take place throughout the day, honoring alumni throughout the ages, including a Decades Reunion at the Alumni Center in Hodgin Hall.
On Friday night, come and mingle at the Artists & Authors reception at the Alumni Center at Hodgin Hall from 6 to 8 p.m. Meet and mingle with UNM alumni authors and artists, including the 2012 Homecoming poster artist, Arturo Chávez. Refreshments will be served. This event is free and open to the public, but the Alumni Relations Office is requesting interested attendees to RSVP at 277-5808.
Events for Saturday, Oct. 6 include the All-University Breakfast at 9 a.m. at the Sheraton Albuquerque Airport Hotel when the Alumni Association presents the Zia and Lobo Awards honoring prominent alumni are presented. Invitations are open, but reservations are required for this exclusive breakfast that will honor this year's Zia Award honorees including Brian Colόn, John Cordova, Aileen Garcia, Edward Gonzales, Rhonda King, and Baker Morrow. The Lobo Award recipient is Rosalie Otero.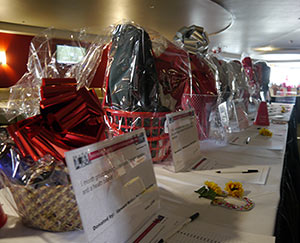 The Southwest Fiesta Tailgate starts at 1:30 p.m. in the club level of University Arena to showcase the world-famous Pit. Live entertainment, a silent auction and a Southwestern-flavored, buffet-style feast will be available for all fans. Tickets are required for the buffet and can be purchased for $15 for adults and $5 for children 12 and under.
Silent auction items this year include: two tickets to the 2012 Dallas Cowboys vs. Pittsburgh Steelers game at Cowboy's Stadium on Dec. 16; two nights at a quaint Taos condominium; various spa packages; a variety of themed gift baskets for every person on your list; and gear including signed balls, jerseys and equipment from various Lobo sports teams.
Also, for the third year, an online auction also benefitting the UNM Alumni Association opened Monday, Sept. 24 at 12 p.m. Online bidding closes Sunday, Oct. 7, at 12 p.m. The online version of the traditional Silent Auction has become a new Homecoming tradition that enables all, from near or far, a chance to participate and help raise money for the UNM Alumni Association Scholarship Fund and programs. With food, travel, sporting events, health and fitness opportunities, spa services, Homecoming posters, clothing, and much more, there's something for everyone at this unique auction.
All are invited to attend the big football game against Texas State at 4 p.m. at University Stadium. But wait, the fun's not over! On Sunday, Oct. 7, come out and tailgate prior to the Lobo Men's Soccer game as they take on Denver at 1 p.m. Celebrate your school spirit and help make UNM a "Super U!"
For a complete list of activities and advanced ticket sales call (505) 277-5808 or visit: Homecoming 2012.