Just north of Center for the Arts, the building that houses both Popejoy Hall and the University Art Museum, stand seven life-size bronze figures reacting to a 24-foot high stainless steel sculpture--- "Modern Art," created by Betty Sabo and Gary Beals in 2004.
Reminiscent of characters from a Norman Rockwell painting, one man contemplates the artwork from a bench, another scratches his head looking befuddled and the others engage in animated discussion.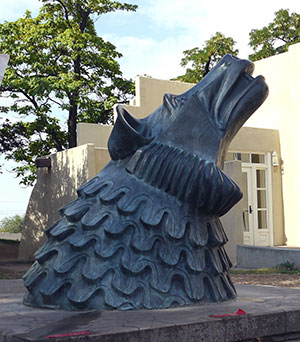 Howling Lobo at Hodgin Hall
Throughout the years, the University of New Mexico has acquired hundreds of pieces of distinguished artwork: paintings, wall hangings and sculptures," said Carroll Botts, Architecture and Planning librarian. "If some of it encourages dialogue, that's a good thing, because the aesthetics of art is not absolute or fixed." 
Some artwork is impermanent. Taking the provenance of art out of museums and into the outside world, land art uses nature as its canvas. Lloyd Hamrol created "Highground"(1980) from concrete and sod in the School of Law's Bratton Hall Courtyard on north campus.
Hamrol's inspiration came from thoughts about the scales of justice. "I created a corresponding image in the landscape," he said, "an imperfect arena where participants would experience the shifting balance of a powerful force."
A lecturer in the Department of Art and Art History for 30 years, Botts said she received several requests for tours of campus art.  However, with the volume of artwork spread across all UNM campuses, time was an issue. So Botts came up with a workable solution by creating a virtual tour. 
"My job at the university pays my mortgage," said Botts, "but art is my passion."
A great deal of public art on campus is acquired under the State of New Mexico's Arts in Public Places Program (AIPP) administered by the Department of Cultural Affairs. One percent or $200,000, whichever is less, of state appropriations for new construction or any major renovation exceeding $100,000 goes toward the purchase or commission of art. 

AIPP provides several avenues for purchasing art. The 'Only in New Mexico' and 'Acclaimed Artists' series are juried collections of work available for purchase with the one percent funds. 
UNM Art Committee member, Sue Mortier explains. "The committee designates funds for 'public' locations throughout all of the campuses. Then specific selection committees are formed to choose work for various locations. Committees of five to seven people might be comprised of a departmental director, a representative from the Office of the Provost, an art professional, architect, student or community member."
In the case of recently renovated Mitchell hall, the selection committee reviewed nearly 500 pieces through the 'Only in New Mexico' series, ultimately selecting four paintings that were purchased and installed in public spaces in the building.
Stroll around UNM and check out the art. You may not always comprehend what you're seeing or what the artist is trying to convey, but where better than a university setting to find thought-provoking art that challenges convention or inspires creativity.