If innovation is the key to student success, the new University of New Mexico Collaborative Teaching and Learning building (CTL) is leading the way. Serving multiple departments, the new $9 million, bond-funded CTL building is one of the newest buildings on campus that provides a learning studio environment designed to give instructors flexibility of curriculum for instruction and demonstration purposes.
The learning studio concept is designed to enhance and enable collaborative learning centered on the students rather than the instructor. This is obvious the moment that you walk into the room as there is no "front" to the classroom. The instructor works from the middle of the room, lecturing sparingly and with easy access to all students. 
The CTL building design was the result of a learning studio pilot project involving Dane Smith Hall, and a collaboration between several entities on campus including the Provost's Office, Office of Support for Effective Teaching, members of the Main Campus Learning Environments Committee, Planning & Campus Development, Media Technology Services, Information Technologies, the Office of Capital Projects and the design firm, Dekker Perich Sabatini.
"This new building does the things we need in the classroom for our students and faculty to be successful," said UNM President Robert Frank. "It's important for our colleges and schools to come together to work collaboratively to create more types of innovative ideas and more successes in the future."
Two of the project goals were to provide innovative classroom for general education classes that provide the foundation for various degree programs across the university and to spur interdisciplinary learning opportunities and encourage faculty from across UNM to con-construct and co-teach new, innovative courses. The innovative classrooms should assist with student success and retention.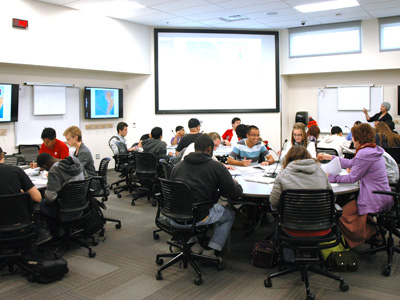 In a learning studio environment, students sit around a table surrounded
by video screens and an instructor who teaches from the center of the
classroom.
"For decades, research has shown that student learning is enhanced when students actively learn together rather than passively listen to a lecturer – the one who learns is the one who does the work and is actively thinking," said Provost and Executive Vice President for Academic Affairs Chaouki Abdallah. "Most students also learn more through social engagement, which includes the opportunity to discuss, debate and share varied expertise and perspectives."
The CTL building was also a model in meeting newer campus density goals by building the project up instead of out. With only 25,000 square feet, the building was placed in the center of UNM's main campus on the small site of a previously demolished building adjacent to Travelstead Hall. The program was designed in three levels, minimizing its impact on the site, providing an exterior courtyard for student gathering, and leaving space for a future three-story addition.
Additionally, the CTL building, which achieved Leadership in Energy and Environmental Design (LEED) Silver certification, conforms to one of the key principles within the UNM Master Plan Update (2009) by increasing building density adjacent to "Roma Way," which helps to energize the well-traveled east-west pedestrian campus corridor.
The facility's most innovative space is the Student-Centered Active Learning Environment for Undergraduate Programs or SCALE-UP. Designed for 126 students, the computer classroom was modeled after similar facilities at North Carolina State University and MIT. The classroom changes the way teaching occurs for large groups of students, replacing lecture halls and allowing students to collaborate in small groups on project-based curricula.
Students work together around tables in three groups of three, fully immersed in an interactive environment where each group has the ability to project, display, and present material to their group, their table or the entire class. Instructors and aides float throughout the space providing guidance to the student teams and providing structure for the presentations. Clickers provide instant feedback on pop quizzes and screens surround the room to show visuals during lectures and group projects.
"Although active learning can take place in a variety of learning environments, the learning studio is designed to maximize active learning by having students face one another, with access to technology aids, and purposely omitting a front of the room that would encourage more lecture-based instruction," Abdallah said.
The CTLB also provides one classroom referred to as the "Sandbox," which is outfitted with additional technology infrastructure to allow teachers to experiment with new technologies, both software and hardware. While the room is used for regular classes, it can also be reserved specifically to allow the development of new curricula or ways of delivering existing curricula. It is also a space where instructors who may be unfamiliar with new tools for teaching can learn to most effectively use them. This feature of the building allows it to be a place of learning for students and teachers as they explore subjects together.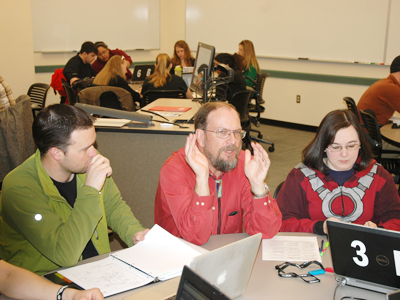 Instructor Gary Smith provides students with the background information
for a geologic problem that individual groups will solve.
The CTL building was modeled in part after a 54-seat, learning studio pilot project at Dane Smith Hall that opened in the spring 2012. It includes six, 9-seat tables, each equipped with three, secured notebook-PC computers with a standard UNM IT software image and enhanced Wi-Fi access, a centrally-located teacher station with CPU, two projection screens and LCD projectors to maximize viewing from all seats and whiteboards on all walls to accommodate student work for discussion.
The classroom, which proved to be highly successful, is now one of the best-utilized classrooms of its size. Departments using it include Chemistry, Chicano, Hispano, Mexicano Studies, Earth and Planetary Sciences; Finance, International, Technology and Entrepreneurship, Geography, Linguistics, Mathematics & Statistics and Nutrition and Dietetics.
Visiting Assistant Professor Sushilla Knottenbelt describes teaching in Dane Smith Hall 224, "I have switched from trying to have a student-centered classroom to actually having a student-centered classroom. I am more connected with the students being among them instead of in front of them. This influences the activities we do in the class, and I experience their learning journey and road blocks directly every class, instead of finding them out a week later looking at completed homework or worse still on the test."
On the heels of the Dane Smith Learning Studio, UNM renovated a portion of the Centennial Science and Engineering Library on the lower level into a Math Learning Lab or "MaLL." The MaLL is equipped with 125 computers for instructional purposes and features a testing lab with 15 additional computers in a similar learning studio environment.
Classroom lectures have been replaced by time on task in an online learning system called "ALEKS." Initially, each student takes an online assessment of skills. After assessment students are given a specific course of individual study designed to fill in the knowledge gaps and move students through the three modules that comprise the Math 120 course.
"The MaLL allows more student success in the first math course, providing a rehearsal in critical math skills," said Frank, who was on board with this project from the time he started his presidency at UNM after a similar implementation at Kent State, his former institution. "We know this approach is effective and can move more students toward graduation."
CTL building amenities include:
The learning environment breakdown includes five learning studios, a seminar room and various group study rooms including:
One Learning studio supporting 126 students utilizing 9-seat, circular tables
One learning studio supporting 64 students utilizing rectangular tables that can be configured to support groups of 4-8 students.
Two learning studios supporting 48 students utilizing rectangular tables that can be configured to support groups of 4-8 students
Four group study rooms and student gathering areas for casual studying
One seminar room
A prototype learning studio to be used for faculty development ("sandbox") as well as for a 48 student classroom utilizing rectangular tables that can be configured to support groups of 4-8 students
A café integrated in the first floor gathering area to foster student and faculty collaboration.