Hey, there's an app for that! The potential of open data to benefit the entire University of New Mexico campus community and beyond is vast.  Whether the data is delivered or consumed via the Internet or mobile web, the uses for new data are limitless. Coders have significant potential to make noteworthy civic contributions, while also gaining monetarily. 
This fall, looking to take advantage of this technology, UNM is challenging students, faculty and staff in an apps contest featuring open data.  Sponsored by the Office of the Chief Information Officer, UNM Information Technologies, the 2013 Fall Mobile Application Development Contest is designed to create a mobile application that uses "Event" data from UNM's new Open Data Repository. App submissions can be coded in a Windows Mobile, iOS, Android or HTML 5 (mobile web) platform, and can use any graphical interface desired. The idea is to allow users to click on an app and find out what events are going on nearby.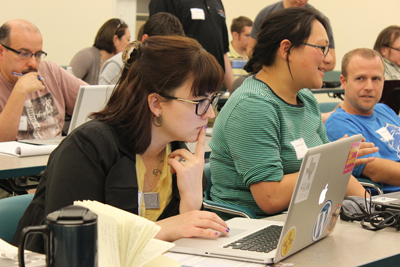 UNM students ponder the possibilities for app creation using open data.
 "We are excited to showcase student skills as UNM leads universities nationally in opening up public data for public use," Chief Information Officer Gil Gonzales said. "These applications will serve the mobile UNM community with information they need to navigate and make the most of our vital campus." 
All interested students, faculty and staff, including experienced and first-time coders, are encouraged to participate. Team participation is also a possibility. Information sessions, coding workshops and other support will be offered in conjunction with the contest.  A cash prize of $5,000 will be awarded to the first place winner. Cash prizes will also be awarded for second and third place, and honorable mention. Only students are eligible to win cash prizes. The deadline for App submissions is Dec. 15, 2013. Judging begins during the 2014 spring semester. Visit the UNM Apps Contest for more information.
"Competitions such as this app contest are a win-win for the university and the community," UNM President Robert F. Frank said. "Students designing the apps get valuable real-world experience. Students using the app will become more engaged in campus life, which contributes to their academic success.  And the community benefits, as well, by having more information about upcoming events."
UNM offers students' academic opportunities to learn these valuable skills. There is a repository titled "Events" located on UNM's Open Data website. However, without a mobile app to creatively capture and display this information, it is not widely accessible.
Nick Flor, associate professor of Information Systems, Film, & Digital Media at UNM, helps students develop programming and coding skills in the courses he teaches at the Anderson School of Management. 
"Mobile development is a growing field with significant earning potential for our students," Flor said. "Combining the skills to code with available open data sources like Albuquerque's trails, UNM Events and even UNM's Course Schedule, creates a rich learning environment and benefits everyone with better access to useful information."  
UNM and the City of Albuquerque collaboratively promoted the development of apps for mobile devices recently providing the community with better access to open data.  UNM's Apps Contest builds on an initial successful partnership with the City of Albuquerque to develop the app, "Where's my bus?" The app was designed to help citizens track public transportation with greater easy and efficiencies.  Going mobile is one way to support the rapidly changing needs of all data consumers. The service has been so successful, the city and the University plan to announce an expansion of the app later this month.
Additionally, in June, UNM hosted Albuquerque's National Civic Tech Day to help build further awareness around 'Civic Tech,' an event that illustrated ways communities can work together to provide useful tools, such as Open Data, and also ways communities can work together to provide useful tools for improved civic engagement.
Albuquerque National Civic Tech Day Event Video