The thumping of a bouncing basketball was the first lullaby for Josie and Hugh Greenwood. Their mother, Andree, played basketball and even competed while pregnant with Hugh, now a 6-foot, 3-inch junior guard on the Lobo men's basketball team 
As she did growing up, Josie followed big brother Hugh, this time to UNM. The 5-foot, 11-inch freshman forward is a member of the Lobo women's basketball team.
"My brother has been the main influence in my life," Josie said. And if it weren't for him she wouldn't be here. "I'd never heard of the place before," she admitted, then recalled the trip to Albuquerque that she and her family made in 2011 when they visited Hugh for his first Christmas away from home. That visit also included an opportunity to speak with Women's Basketball Coach Yvonne Sanchez.
As readily as the Australians – from Hobart, Tasmania – have adapted to life in New Mexico, the path to here didn't come without hard work and hardships.
"Hugh played basketball first. I got jealous, but we mucked around in the yard together," Josie recalled. Josie and Hugh grew up dribbling balls that have taken then from a hoop in the yard to The Pit.
Compared to Albuquerque, Hobart's a small city.  Josie said, "The facilities here are great. I'm still getting used to having access to courts, the training facility and everything that makes me improve my basketball."
Although she has her brother, Josie said that she's close to the other freshmen players. "We are like family – both on the boys and girls teams," she said.
Josie and Hugh hadn't lived in the same house for many years because he was training at the Australian Institute of Sport.  It was while he was there, that their mother was diagnosed with breast cancer.  Josie said, "He wanted to come home, but mom insisted we not stop our lives while she was sick. She told us, 'Chase your dreams.'"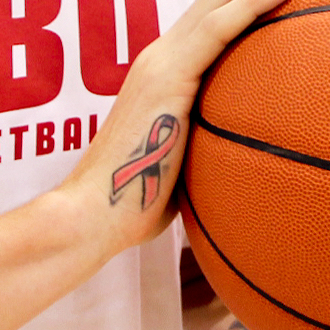 Hugh Greenwood got a tattoo of the pink breast cancer
awareness ribbon once his mother finished with treatment.
"She was the first in the family to get breast cancer. We weren't close to anyone who had it and she had an unusual form of breast cancer," Josie said.
It was a three-hour flight from the institute to get home, Hugh said. "The day they found out about the cancer was night of the awards dinner for my graduating teammates. My parents waited to tell me until the next morning," he recalled.
After the Junior World Championships, he flew home to Tasmania, where he planned to stay for a while. "I got a call to go to China with the Australian National Team. We sat down as a family and my mother didn't want her illness to hold me back. I was 17 – the youngest to play," he said.
Hugh said that the reality of his mother's illness didn't sink in with him right away. "When I would come home, the progress became evident, like her loss of hair, but I didn't feel the full force of it like Josie and Dad did," he said.
"She said that seeing me live my dream helped her through. It helped me, too, because when I had to train and didn't feel like it, I got motivation from her because she couldn't do those things after surgery, radiation and chemotherapy," Hugh said.
Josie became more independent during her mother's illness. "I did more for myself. And my dad and I got very close because he drove me places. He did a lot to hold the family together," she said.
Both Hugh and Josie continued to play basketball. Another dream they continue to chase is seeing their mother past the "magic five-year mark," Josie said, admitting that she's scared the cancer will come back.
"She's great after the four-year mark, though," Josie said.
Hugh got a tattoo after his mother's surgeries to celebrate the end of all her treatment. It's a pink ribbon, the symbol people wear to support breast cancer awareness. Hugh's tattoo is visible on the outside of his hand when he shoots.
Next year Hugh plans to cut his hair- yes, those lovely blonde locks – to raise money for cancer research. "An Australian footballer did that and raised a significant amount of money. I would like to do the same thing," he said.
And what is Andree doing today? "What isn't she doing?" Hugh said with a smile. She's an assistant coach for a semi-pro team, the Lady Chargers. She's also on the board for basketball in Tasmania.  "And she walks the dogs everyday," Josie added.
Both Hugh and Josie are enjoying the 2013 basketball season. "With a new coach and a new group of guys, we have some changes, but I hope to win another Mountain West Championship," he said 
Josie is getting used to playing in a new country and enjoying the experience. "We have no star players, lots of depth and we're starting to click," she said, adding, "I have to earn my spot like every other player."
Hugh said, "We are lucky we get to play here together. Our parents feel better knowing we're doing it together."
Hugh and Josie still don't share living quarters. Josie's on main campus, like other freshmen, and Hugh is at Lobo Village. "We do study hall together and arrange to do something together once a week," Josie said.
And both are looking forward to seeing their parents in Las Vegas when they come for the Mountain West Conference Tournament.