Teaching is a difficult career in and of itself. A handful of University of New Mexico students found out firsthand recently what it's like to not only be a teacher, but also a teacher in a foreign country. Five students participated in a newly-formed partnership between the UNM's College of Education and the Austrian American Educational Cooperation Association (AAECA), a non-profit organization affiliated with the Austrian Ministry of Culture and Education.
The collaboration is designed to provide a rich and meaningful educational and cultural experience not only for the UNM teacher candidates, but also for Austrian teachers and their students. The program, titled Stars Assistant Program Austrian-American Student Teacher Exchange, recently completed its second year. 
Each year, elementary teacher candidates from UNM who are completing their second semester of coursework and student teaching, are selected to participate through an application process. The selected students spend time teaching in the city of Vienna and in small towns in the Burgenland, a province in southeastern Austria similar to teaching in rural areas of New Mexico. As part of the program, students can also complete part of their regular teaching requirements of their degree program during the 12- to 14-week course in Austria. 
"One of the major goals of the AAECA is to initiate and support teacher and student exchange programs between the United States and Austria," said Deborah Rifenbary, associate dean, College of Education and coordinator of the program.  "The program is designed to enable a teaching opportunity for Elementary Education student teacher candidates from the UNM College of Education to complete one month of their second semester of student teaching in an Austrian school."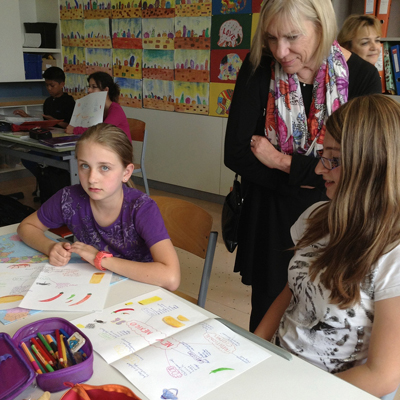 Deborah Rifenbary, UNM College of Education associate dean and
coordinator of the Stars program, looks over the shoulder of
Austrian schoolchildren as they create posters depicting New Mexico.
The program pairs UNM student teacher candidates with Austrian primary, middle and/or secondary school teachers who are typically bilingual or multilingual and English-speaking. They serve as mentors who guide the American students throughout their stay in Austria.
UNM's student teacher candidates serve as a model for reading, writing and speaking English to Austrian students, all while gaining valuable experience. The student teachers also co-plan lessons and conduct their teaching activities while combining the expectations of the UNM College of Education teacher education program and the curriculum required of the host Austrian school.
The UNM student teachers also facilitated and adapted English lessons in other content areas such as a lesson on New Mexico history. The Austrian students while learning from the American teachers, have the opportunity to listen, speak and learn from Native Speaker Teachers (NSpT's) as they are referred to in Austria, and gain insight and information about life in the United States, its people, culture and educational system.  Both, the UNM teacher candidates and the participating Austrian teachers learn from each other, cooperate together, and are exposed to different approaches of teaching language and different educational systems.
"This is a once in a lifetime opportunity for our students to experience, live and learn another culture through teaching in another country," said Deborah Rifenbary, associate dean, College of Education. "It's also beneficial to Austria because of the exposure to a native speaking teacher of American English. 
"It is very important that the Austrian students have access to authentic information about foreign countries brought to them by locals and have the chance to talk to them," said Renate Hanisch, Austrian project coordinator.
Several elementary education faculty members have participated on the selection committee including Rebecca Sanchez, who, as the assistant coordinator of the program has worked with the teacher candidates before, during and after the international exchange.   
"We are so excited to develop this relationship and partnership with Austria," Sanchez said. "The enthusiasm is great and notable. We need to figure out how best to balance the partnership – between theory and methodology and how to fit it into the larger picture." 
A Student Perspective
The program, now in its third year, sent a pilot group of students to Vienna, Austria in the summer of 2012. The UNM College of Education expressed its overall satisfaction with the outcome of the pilot and additional steps were taken to establish the "Stars Assistant Program" as a regular opportunity for students to gain international teaching experience. A second cohort of five teachers went to Austria this past summer and participating students felt the experience was invaluable.
"All Austrian schools, which participated in the program, already asked for continuation," Hanisch said.
Alyssa Gallagher, one of this year's participants, said teachers in the United States many times don't understand what it's like for ESL students and the struggles they encounter in a foreign environment.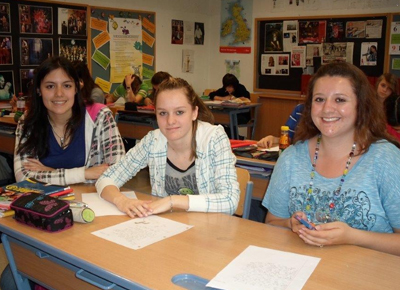 Kaitlyn Jaramillo (l.) and Michelle Radosevich (r.) review a lesson with an
Austrian student.
"As a future educator, I think one of the most valuable things I took from this experience was experiencing the culture shock, the language barrier and the fear to speak in my native language," Gallagher said. "This was so important for me to experience because here in New Mexico we have many students who come into the public school system not knowing English, or having very limited English.
"When I experienced this first hand, I saw what it was like to come into an environment where no one can understand you and you can't understand them. It's not that the students aren't interested or aren't paying attention on purpose, they just can't understand. I left Vienna with a great desire to learn another language and to better myself as an educator in working with children who speak English as a second language."
Kaitlyn Jaramillo, another 2013 participant, was surprised about the students' independence and how Austrian teachers have created a philosophy and atmosphere where students know what they're supposed to do.
"It was quite the eye-opener," said Jaramillo. "I was surprised how independent students were in Austria," Jaramillo said. "They were on top of it every day. It was a nice difference to see in students. I learned that I want to create an atmosphere in my classroom where kids know what to do. It made me rethink how to do things in my classroom. The experiences I had solidified everything we've been taught here at UNM. It was a great experience."
Another student, Kristin Alvarado, experienced the importance of the community and family in Austria's educational philosophy.
"In the country, there was a community feeling centered around the family and usually two parents at home," Alvarado said. "It's a whole different culture. I hope it's an atmosphere I can bring to the classroom. I think it gives kids a feeling of being safe."
UNM student Michelle Radosevich felt one of the biggest challenges for her was adapting to life in another country. "The experience opened up my world and made me more confident," Radosevich said. "We relied on each other and there was a lot of teamwork involved. All of our worlds' are a little bigger. I think learning to adapt and transition while teaching in another country opened up so many opportunities and a lot of doors for us, especially in my situation." 
Tara Roepke also reiterated what it was like to adapt and how that experience should be beneficial to her teaching career. "As part of our lessons, we taught them special things about the places and the food in New Mexico, which was very well-received," she said. "I think the most challenging part was adapting to the Austrian way of life. But I feel now that I can go into any classroom and adapt to whatever situation I might experience."
Austrian teachers also take a bit of a different approach when it comes to assignments mainly because of the educational philosophy in the country.
"The teaching itself is not that different," Hanisch said. "The timetable of lessons and breaks are different (more short breaks between the lessons in Austria). The American student teachers were surprised that in Austria criticism is allowed and used, as well as praise. Austrian teachers use praise a lot for positive motivation, but are allowed to give a realistic feedback using justified criticism."
"I plan to be honest with my students and parents when I begin teaching. If their child is not performing to the best of his/her abilities, I will confront the issue. I will not stand by and accept student work, just because it is completed. Students need to be pushed to do their best, not just to get by," Gallagher added.
"All the teachers who have taken part in the project were very enthusiastic about having student teachers from New Mexico," Hanisch said. "There were no language barriers, not even with the young students, because the student teachers from UNM were very well prepared using an appropriate language level for their lessons."
Future program plans…
While others have talked about promoting international student teacher experiences, the UNM College of Education is deeply involved. The first two years have provided great success and lessons learned.  The relationship between the College of Education and the AAECA has strengthened during this time and the goal for the two entities is to continue to provide rich personal and professional development experiences for both the American student teachers, and the Austrian teachers and their students. 
"The hope is to increase the number of student teacher participants and create an enhanced exchange by inviting Austrian teachers and student teachers to experience firsthand the American educational system," Rifenbary said.