For many years, UNM has offered top students the chance to enhance their education with courses offered through UNM's Honors program, helping them to graduate with an additional distinction. But as students worked through the program, university faculty leaders noticed a problem.
As honors students progressed, more and more of them found that they had less time to devote to the additional classes required to complete the honors program. An honors class of 400 students starting in their freshman year would drop to under 100 by the time they graduated.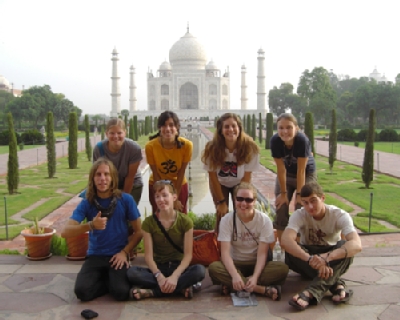 UNM Honors students visiting the Taj Mahal
University officials decided to revamp UNM's honors program, and as a result, they created the university's new Honors College, which was approved by UNM Faculty Senate in the spring of 2012.
"The goal of the new Honors College is to provide UNM's best students with many different paths to complete their honors work without negatively impacting the requirements of their academic programs," said Kate Krause, new Honors College dean.
Krause was charged to transition the university's honors program into the new fully-fledged college. Her goals include providing multiple paths for UNM students to complete an honors program. One proposed pathway grants students honors recognition by completing five honors classes, including upper division honors coursework, in
addition to classes required for their degree. The faculty has also proposed honors degrees that require more coursework in honors.
Classes with an International Flavor
Getting an international experience is an important element of a university's honors program; and while UNM's Honors College doesn't currently require students to spend a semester abroad, the faculty encourage honors students to spend some time outside of the United States to learn about new cultures, as well as to showcase what they have learned at UNM through their interaction with host universities.
More than half of the students who graduated from the UNM Honors Program last year studied in other countries as undergraduates.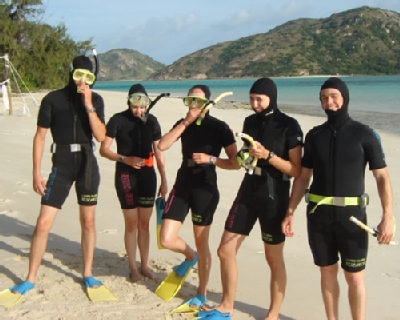 UNM Honors students in Australia
"International studies are inherently interdisciplinary," Krause explained. "You have to deal with other languages, other cultures that encourage you to think collaboratively."
Krause believes that these international opportunities should be available to all students in the Honors College, regardless of their economic background. The UNM Foundation reaches out to UNM Honors alumni to help fund many of the school's initiatives, including the international programs.
What is the future of the Honors College?
UNM Faculty Senate is currently examining several ideas to improve student experience in the university's Honors College – ranging from a plan where students can complete a five-class program to graduate from UNM "with honors" to a possible bachelor's degree in Honors Studies or a minor in Honors.
The Honors Degree is designed to be interdisciplinary – not to compete with existing degree programs, but to provide students with creative ways of thinking, drawing from disciplines across the UNM campus in ways that can't be addressed in a single discipline.
"We want to work with students who aren't convinced that they should be focused on a single academic area, the
high achievers – those who are interested in the intellectual life of the mind."
All photos courtesy of UNM Honors College.