Imagine trying to show the Lobo Experience in 60 seconds, or even just 30 seconds. That's what a team of students did as they conceptualized, directed, filmed, edited and presented the UNM institutional spot. The students worked under the leadership of University Communication & Marketing intern Ethan Rule.
"We have an exceptional student team who imagined a brilliant creative concept and who worked hard to make this ambitious production come together," Rule said.
Jordan Hoffman, videographer, said that filming took place over several sessions. "We went to the Wild Spirit Wolf Sanctuary. There were wolves everywhere – 60 or 70 of them. When one would howl, all would howl. It was a really cool feeling."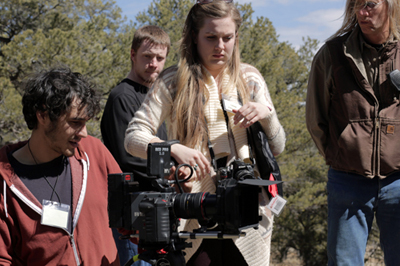 Student Film Team on location creating what will soon be  the UNM
Institutional spot. Photo by Casey Curtiss
He said that they also filmed in a working hospital room, shot the U outside Hodgin Hall, and caught the vibrancy of the crowd of a UNM men's basketball game in The Pit.
"We covered the UNM orchestra. It was great to capture a large crowd playing," Hoffman said.
Hoffman used two cameras, both of them high dollar cameras in the Red family: Red One and Red Scarlet. Having the UNM basketball team in the NCAA tournament impacted the group's shooting schedule. "We needed footage of a player and finally got it," he said.
Hoffman is a senior in the Interdisciplinary Film and Digital Media (IFDM) program at UNM.
Casey Curtiss, video editor, compiled the video. Although his work was held up waiting for the remaining footage, he put that time to work on animatics – or animated video storyboards. Curtiss works at IFDM at Mesa del Sol, where he has access to the professional editing software Avid to create the video.
Curtiss faced some challenges pulling the video together and creating the proper transitions. One student, Sean Trauth, worked up the music for the spot. Curtiss said that they presented a rough cut of the video to a group of freshmen in mid-April.
"Then we presented to another focus group of students and faculty. The video premiered at graduation," he said, adding that it give him pleasure to see their work as he sat in The Pit in his cap and gown.
This is the fourth year that UCAM has worked with students to produce the institutional spot, which airs during the NCAA basketball tournament and other times, as appropriate.
The 2011 spot won a Gold Award from the Council for Advancement and Support of Education Southwest District IV.
"We value the creative and technical contributions of our interdisciplinary team of students," said Cinnamon Blair, University Marketing and Communication chief officer. "They are tasked with creating an impression of the University of New Mexico for the world to see using skills they've acquired while students at UNM. It's a real-world experience in every sense of the meaning."