Maxine Thévenot got her first paying job as an organist when she was 11 years old. "One of the highlights of that job was stopping at Mrs. Silzer's for apple pie. The parish priest would drive me from one church to the other where he preached each Sunday. By the time I was 12, he taught me to drive," 
Thévenot is the director of music at The Cathedral of St. John, located in downtown Albuquerque. She plays the organ and conducts the cathedral's four choirs. Thévenot, director of the women's chorus in the UNM College of Fine Arts-Las Cantantes, serves as artistic director of New Mexico's first resident professional vocal ensemble, Polyphony: Voices of New Mexico and also serves as artistic director for the Sangre de Cristo Chorale based in Santa Fe.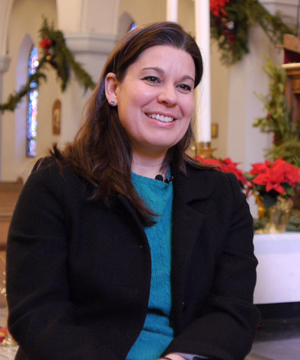 Maxine Thevenot
Originally from Canada, Thévenot came to New Mexico by way of New York. "I planned to stay in New York for two years and ended up staying seven," she said. Thévenot earned a doctorate from the Manhattan School of Music in 2006 and began working at the cathedral as associate organist-choir director in 2005 and at UNM in 2006. In 2009 she became director of cathedral music and organist at the Cathedral of St. John. For a few years, 2006-09, she taught music appreciation and music theory at UNM, but now focuses exclusively on Las Cantantes.
Las Cantantes is a 20-member auditioned choir that draws participants from across disciplines on campus. "The women practice four hours per week and present two or three concerts each year.  We perform both at UNM and in the community. We had the opportunity recently to perform the Brahms 'Requiem' with the New Mexico Philharmonic and other singers from the community, " she said. 
Thévenot's choirs at St. John's range from two children's choirs – one for ages three to seven and the other for children seven to 16. "We also have a 40-member adult mixed ensemble-The Cathedral Choir- and the Cathedral Chorale. The chorale is for those who want to sing, but can't make the commitment for the number of rehearsals the Cathedral Choir has," she explained. 
Finding music for her choral groups isn't hard. "It's difficult to decide what not to perform. There is 1,000 years of repertoire to choose from," she said. Composers have been writing for women's choirs for centuries. She notes the work of Saint Hildegard of Bingen, a German writer, composer and philosopher. In addition to founding a couple of monasteries, she composed nearly 70 musical compositions.
She said that among modern composers, Johannes Brahms was instrumental in composing for women's voices and he influenced his contemporaries.
Some of Thévenot's 20th and 21st century composers of choice include British organist and composer Philip Moore, British choral composer, conductor and singer Bob Chilcott; American composer Stephen Paulus, who was commissioned by the UNM Department of Music to compose the children's opera "Shoes for the Santo Niño;" and UNM Director of Choral Music Bradley Ellingboe. "I generally try to include one or two of his works in each concert because they are so well written," Thévenot said. 
"In the mid 1800's the trend began, hand in hand with the church of the time. Men assumed the roles of religious figures and women had less sense of responsibility and duty that spilled into the secular world. Women attained prominent roles and young composers began writing for women's voices," Thévenot said.
Thévenot said that aspiring to sing or play in some of the world's best venues is motivation for rehearsing and practicing. "Las Cantantes has traveled twice to New York to sing in spectacular spaces and lead liturgies, offer preludes for services and sing concerts," she said, adding that they recently released a CD titled, "Spectrum – Las Cantantes: Women's Choir, University of New Mexico."
The Cathedral of St. John choir is preparing for its third tour in the United Kingdom. "We are scheduled for a week long residency in both Westminster Abbey and Winchester Cathedral in 2014," she said.
Her two choral worlds often raise their voices together. In 2006 she formed Polyphony to perform at The Cathedral of St. John. She formed this group primarily to highlight the talent found in New Mexico and to help keep young singers employed and in the state.  This professional ensemble has gone on to perform statewide. "It includes choir members from the cathedral and graduates of Las Cantantes," she said, adding that some women from Las Cantantes also sing with the St. John choir.
Crossing into the church's expanse is like stepping into a European cathedral. It's not Notre Dame, but St. John is graced with the beauty of stained glass, high ceilings and the same sense of reverence one feels in the world's great cathedrals. It also is blessed with the largest pipe organ in New Mexico.
A figurine of Johannes Sebastian Bach looks down as Thévenot turns on the organ and the sound of air rushing through the pipes breathes anticipation of the music to come. Her leather-soled shoes slide against the wooden keys. Her fingers dance across the keys lightly, offering music that starts out soft and delicate. Her fingers move faster and press down harder and the music builds to an insistent and demanding tone. The building can scarcely contain the sound emanating from the pipes at the front and the back of the cathedral.
As Thévenot has been told, the music, both sung and played, is like praying twice.