Lights! Camera! Action! The University of New Mexico celebrates its 89th annual Homecoming festivities this week by rolling out the red carpet to welcome back alumni and the campus community as it features "A Howllywood Homecoming," through Sunday, Sept. 29.
More than 50 separate events, most held on campus and free to all, will take place during the fun-filled week. The celebration culminates on Saturday, Sept. 28 at 6 p.m. when the Lobos take on UNLV at University Stadium, which will include the coronation of the Homecoming king and queen during halftime of the tradition-rich football game.
"Each year, the Homecoming Committee challenges campus constituents to show their Lobo spirit by participating in homecoming events, including educational lectures, tours and presentations," said UNM Alumni Association Program Director Sue MacEachen.
"Once again, this year, the campus community came up with a great theme that fits great with all our events."
The festivities begin with the UNM Alumni Association's fourth annual Homecoming Community Service Project titled, "Roll for the Cause," a toilet paper collection effort in support of the Ronald McDonald House (RMDH).  Providing service to more than 70 family members each month in their Albuquerque location, RMDH provides comfort, care and a home away from home for families whose children are in medical treatment.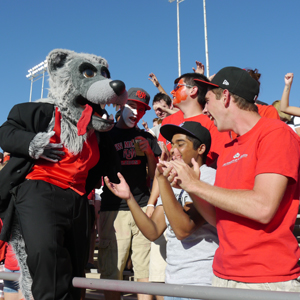 Lobo Louie mingles with the student section at last
year's Homecoming football game. 
Once again this year, the UNM Alumni Association will also gather much-needed donations benefiting the Albuquerque Public Schools Title I Homeless Project.  With nearly 7,000 homeless children and youth in the Albuquerque area, these donations make a tremendous difference in these students' lives.  Donations should include travel-size toiletries such as shampoo, conditioner, hair brushes, soap, lotion, deodorant, toothbrushes and toothpaste.
The UNM Alumni Association will collect items at several locations across campus through Friday, Sept. 27.
Playing off this year's theme, the annual Campus Decorating Contest features a movie poster and a short video competition. Decorated posters will be displayed in the SUB Ballrooms B & C during the annual Alumni, Faculty and Staff luncheon on Wednesday, Sept. 25, where they'll be judged by "people's choice" voting. Videos may be viewed and judged beginning, Monday, Sept. 23.
Also beginning Wednesday, Zimmerman Library celebrates its 75th Anniversary with a special architectural and historical tour that will be offered at various times during the week to celebrate Zimmerman's Diamond Anniversary. The Office of the Medical Investigator (OMI) will offer a behind the scenes tour of its state of the art facility, which provides training in aspects of medico-legal death investigation for the UNM School of Medicine.  The tour starts at 5:30 p.m. at OMI, located at 1101 Camino de Salud, NE. Interested participants may call 277-5808 to RSVP.
On Thursday, Sept. 26, the Anderson School of Management will host a tour and presentation on how digital media has transformed marketing in the entertainment industry at the Interdisciplinary Film & Digital Media Facility at Mesa Del Sol, 5700B University West Blvd. SE. The tour starts at 6 p.m. RSVP to abqricci@unm.edu.
The Daily Lobo will play host to alumni staffers who worked for this 100+ year university publication, with a reception at the Alumni Center in Hodgin Hall beginning at 6 p.m.
On Friday, Sept. 27, it's Lobo Spirit Day. Faculty, staff and students are encouraged to wear red on campus to show off their Lobo pride. All are encouraged to join students for a pep rally at noon in the Atrium at the UNM Student Union Building to help send the Lobo teams to victory.
Events for Saturday, Sept. 28 include the All-University Breakfast at 9 a.m. at the Hotel Andaluz, located at 125 2nd Street NW. The UNM Alumni Association will present the Zia & Lobo Awards and the new Young Alumni Inspirational Alumnus Award honoring prominent alumni. Reservations are required for this exclusive breakfast that will honor this year's Zia Award honorees including Gig Brummel, Leslie Hoffman, Madeline King, Jay Rosenblum, Peter Sanchez and Frank Sedillo. The Lobo Award recipient is Chris Schueler, while the first-ever Inspirational Young Alumnus Award recipient is Abigail Lanin Eaves.
On Saturday afternoon, the Southwest Fiesta Tailgate starts at 3 p.m. in the club level of University Arena to showcase the world-famous Pit. Live entertainment, a silent auction and a Southwestern-flavored, buffet-style feast will be available for all fans. The event is free, but tickets are required for the buffet and can be purchased at the event. The cost is $15 for adults and $5 for children 12 and under.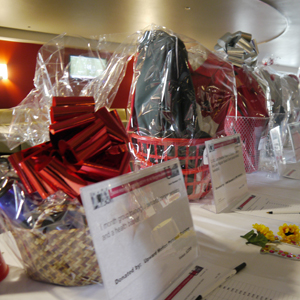 Gift baskets line the tables as part of the silent auction
at the Southwest Fiesta Tailgate.
Silent auction items this year include: two tickets to the 2013 Dallas Cowboys vs. Minnesota Vikings game at Cowboy's Stadium on Nov. 3; four nights at a Taos B&B plus skiing; 2014 Rockies Tickets in Coors Clubhouse; various themed gift baskets and Lobo gear from UNM's sports teams.
Also, for the fourth year, an online auction, also benefitting the UNM Alumni Association, is open for bidding. The online version of the traditional Silent Auction has become a new Homecoming tradition that enables all, from near or far, a chance to participate and help raise money for the UNM Alumni Association Scholarship Fund and programs. There's something for everyone with items including hot-air balloon rides, hotel stays, restaurant gift certificates, Homecoming posters and much more. To bid, visit: UNM Alumni Online Auction. Online bidding closes Sunday, Sept. 29, at noon.
Finally, all the hoopla culminates Saturday night with the big football game against UNLV at 6 p.m. at University Stadium. A post-game balloon glow, sponsored by UNM Athletics and the Albuquerque Balloon Fiesta, will also take place on the fields south of University Stadium.
For a complete list of activities and advanced ticket sales call (505) 277-5808 or visit: Homecoming 2013: 'A Howllywood Homecoming.'