UNIVERSITY OF NEW MEXICO 2005 JEMEZ MOUNTAINS ARCHAEOLOGICAL FIELD SCHOOL
A COOPERATIVE PROJECT BETWEEN UNM, VALLES CALDERA NATIONAL PRESERVE AND SANTA FE NATIONAL FOREST
Director:  Ann F. Ramenofsky
University of New Mexico
<![if !vml]>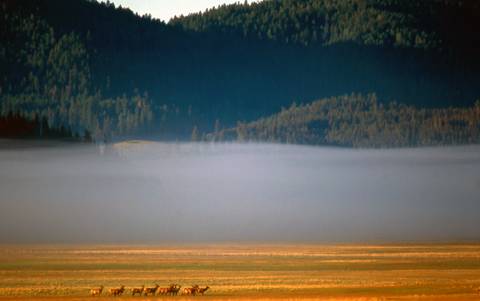 <![endif]>
Elk in the Valle Grande: Photo: Don J. Usner; Valles Caldera Nat'l Preserve [VCNP]
The UNM Southwestern Archaeological Field School will be held in 2005 in the southern portion of the Jemez Mountains. The Mountains are volcanic in origin with elevations ranging from 6,500 to 11,000 ft. During the field school, students will learn state-of-the-art field archaeological skills that will emphasize recognition and mapping of surface archaeology. As management and protection of archaeological resources have become increasingly important, archaeological fieldwork has moved away from excavation to the research, documentation and protection of the surface archaeological record. Our fieldwork will reflect this changing orientation. Students, however, will also have exposure to excavation method and technique by working with professional archaeological crews at a large site in the Valles Caldera.
Much of the Jemez Mountains is public, and is controlled and administered by two agencies: the Jemez District of the Santa Fe National Forest (SFNF) and the Valles Caldera National Preserve (VCNP). The SFNF surrounds the Valles Caldera and was established in 1915. It serves the public through recreation, grazing rights, forest protection and restoration, and identification and protection of cultural properties. The VCNP is a collapsed volcanic crater. The most familiar feature is the 6500 acre grasslands known as the Valle Grande. The VCNP was established by federal legislation in 2000 and has as its mission the protection, preservation and scientific investigation of all parts of the landscape, from geology and elk herds to archaeology and hydrology. The field school will be working on lands of both the SFNF and the VCNP . Students will have the unique opportunity to work with professional archaeologists in both agencies.

<![if !vml]><![endif]>

Archaeologists [ A. Kirkland and M. Dooley] mapping in the Valle Grande of VCNP. Photo: Cultural Resources Program; VCNP
FIELD SCHOOL MISSION AND BACKGROUND
The Jemez Mountains is one of the most scenic areas in New Mexico. At high elevations the landscape is characterized by open meadows, thick stands of ponderosa pine and spruce. At lower elevations, the landscape is more open with stands of pinon and juniper. The region also has a diversity of fauna, including elk, white tailed deer, bear, coyote, squirrel, hawks, jays, and humming birds. In addition, this region is renown for its world-class geology. Mountain building occurred during major volcanic eruptions between 1.6 and 1.2 million years ago. The ash radiating from the eruptions solidified into various types of welded tuff, a relatively soft rock that created the mountains. Still later, the mountains were dissected largely by water which, in turn, created a rugged terrain of high mesas, and deep canyons. Toolstone quality obsidian was a major constituent of the Jemez volcanism and, today, the Jemez Mountains are widely recognized as one of the major archaeological regions of obsidian research. In fact, it is nearly impossible to walk anywhere in the Jemez without coming across obsidian flakes and cores.          
<![if !vml]><![endif]>

Guadalupe Mesa looking north toward Jemez Valley. Photo: Jennifer Boyd SFNF

<![if !vml]><![endif]>

Looking south from the north of the Valles Caldera. Photo: Don J. Usner
The archaeological record of the Jemez Mountains begins approximately 10,000 years and is extremely diverse. The most common kind of site on the SFNF is the remains of small structures, frequently termed field houses. On the VCNP, obsidian quarries dominate archaeological landscapes. The Jemez Mountains are also the ancestral home of living Pueblo communities, including from south to north Santa Ana, San Felipe, Zia, Jemez, Cochiti, and Santa Domingo, San Ildefonso, and Santa Clara.
<![if !vml]>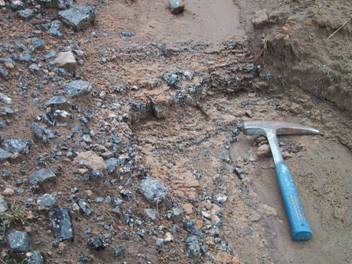 <![endif]>
Obsidian quarry in VCNP. Photo: Anastasia Steffen; VCNP
| | |
| --- | --- |
| <![if !vml]><![endif]> | During our six week field school, students will become familiar with a wide range of Jemez archaeology. We will be doing systematic surface survey and mapping in two different areas of the SFNF and VCNP, both of which are characterized by the remains of field houses. In the SFNF, we will work in the Dome Wilderness, the only wilderness region on the Jemez District; on the VCNP, we will be surveying on Banco Bonito.  |
<![if !vml]><![endif]>

Multi-room structure on Banco Bonito. J. Civitello measuring structure. Photo: Cultural Resources Program; VCNP

<![if !vml]><![endif]>

Field house with standing and collapsed walls on SFNF; Photo: Connie Constans

<![if !supportMisalignedColumns]>
<![endif]>
The pedestrian survey in the Dome Wilderness will occur between 6500 and 6700 feet. At this elevation, the surface is easy to inspect, and archaeological features easy to recognize. We will also conduct systematic pedestrian survey on the southwestern edge of the VCNP on Banco Bonito. Structurally, the Banco is a rhyolithic flow at a much higher elevation than the Dome Wilderness, between 8200 and 8400 ft. Surface visibility is obstructed by extensive pine duff and there is abundant rock.  Although the area is also rich in the remains of small structures, the recognition of these structures is made difficult by the environmental setting. Finally, during the field seasons, students will rotate into an excavation of a large flaked stone reduction site in the Valles Caldera.
WHAT YOU WILL LEARN
Field schools are intense learning laboratories.  For six weeks, students are deeply involved in living, thinking, and talking archaeology. Field schools also provide the opportunity to work closely with other students and with instructors. A community that works and plays together develops. It is a wonderfully exciting experience!
In any field situation, there are definite skills that students must learn. In the Jemez Mountains field school, students will learn all the following: 
Field skills:
<![if !supportLists]>Ø <![endif]>Surface archaeology and why it matters
<![if !supportLists]>Ø <![endif]>Systematic pedestrian survey for the discovery of artifacts at all scales
<![if !supportLists]>Ø <![endif]>Field recording using state-of-the-art Global Positioning Systems
<![if !supportLists]>Ø <![endif]>pace and compass mapping
<![if !supportLists]>Ø <![endif]>excavation techniques
<![if !supportLists]>Ø <![endif]>Jemez Mountains Geology
<![if !supportLists]>Ø <![endif]>Jemez Mountains Archaeology
<![if !supportLists]>Ø <![endif]>Consultation with descendent communities of the Jemez Archaeology
<![if !supportLists]>Ø <![endif]>Excavation techniques
Laboratory Skills
<![if !supportLists]>Ø <![endif]>Characteristics of flaked stone and ceramic types
<![if !supportLists]>Ø <![endif]>Database entry and management
<![if !supportLists]>Ø <![endif]>Site documentation for archaeological records management system
Our work week is from Sunday night through Saturday morning. We will be working in the field or laboratory Monday through Friday. Most Saturday mornings, we will taking field trips to learn as much as possible about Jemez archaeology. During our work-week, we will be spending most of time in the field walking and recording archaeological, geological, and ecological information. Because the elevations where we will be working are relatively high, applicants should be in good physical shape. If you are concerned about your physical abilities, please contact Ann Ramenofsky, aramenof@unm.edu
BASIC INFORMATION 
Field School Dates:
June 6-July 15.
Students attending universities whose schedules overlap with starting or ending dates of the University of New Mexico Field School may still participate. However, written arrangements must be made prior to enrollment in the Field School.
Student Eligibility
The Southwestern Archeological Field School is an annual University of New Mexico program. Students presently attending any college or university may apply to the Field School. High school juniors and seniors in the concurrent enrollment program are also eligible to apply. Applications for concurrent enrollment may be obtained through the University of New Mexico, Admissions Department (505) 277-2446.
All Field School students are formally enrolled for 6 credit hours in the University of New Mexico for the duration of the Field School. They receive University of New Mexico credits that, in most instances, are transferable to other colleges and universities. Students should check with their university registrar or other official to determine transferability of University of New Mexico Field School credits.
Registration in the Field School does not constitute admission to any University of New Mexico degree program. Students other than University of New Mexico degree candidates may petition to apply Field School credit toward a University of New Mexico degree only if they apply to, and are admitted as, University of New Mexico degree candidates. The Field School is sponsored by UNM and is supported largely by student tuitions. Students are expected to comply with all federal, state, and local laws. Noncompliance is grounds for dismissal from the Field School.
________________________________________________________________________________________________________________________________________________________________________________
ACCOMMODATIONS
<![if !vml]>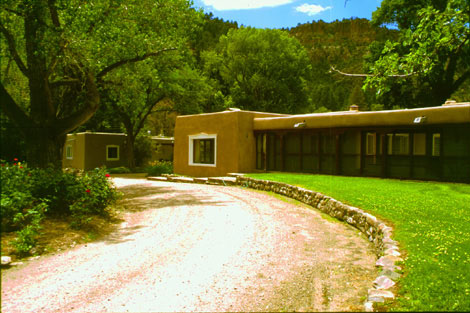 <![endif]> (Photo by J. Angel)
The UNM field school students will live at the Young Ranch, located just east of Cochiti Lake at the base of the Jemez Mountains. This ranch is located in a beautiful setting in a narrow valley drained by the Rio Chiquito. Because of the location, there are numerous opportunities for hiking and exploring on weekends. Young Ranch was built in the 1920s and is one of the gems of New Mexico architecture. Although there is water and electricity at Young Ranch, there is no phone, and most cell phones do not work in this narrow canyon setting.  A public phone is located approximately 20 minutes away.
Transportation: Students are not required to provide their own transportation. The field school will provide transportation to and from work locations, as well as for field trips. We will also ferry students up to Young Ranch and back to UNM at the beginning and end of the field school.  Private cars will be necessary for only personal trips. 
---
FINANCIAL AID
Students at the University of New Mexico should follow the normal procedures and contact the Financial Aid Department. No financial aid is available to visiting students. Visiting Students should consult the Financial Aid Office of their own institutions.
________________________________________________________________________________________________________________________________________________________________________________
APPLICATION AND REGISTRATION
Application Deadline: March 15, 2005 (Please call if your application will be delayed)
All students must complete and return an application fsapp-2005.html along with one letter of recommendation, and an unofficial transcript. Send completed applications to:

Field School
Attn: Yolanda Nieto;
Department of Anthropology
MSC 01-1040
University of New Mexico
Albuquerque, NM  87131-0001
505-277-1536
ynieto@unm.edu

We will contact you once we have received your application.
Registration
Applicants accepted into the Summer Field School will be sent further instructions on how to register.
For additional information, please telephone Yolanda Nieto  [see information directly above]
Check-in and orientation will take place during the afternoon of June 5th. We will provide more information on the time and place of the orientation on this web site and with the mailing sent to accepted Field School participants. Attendance is mandatory at the orientation session. Students arriving from outside Albuquerque will need to provide transportation information prior to arrival.
---
TUITION AND FEES
Tuition
$155.75 * per credit hour for undergraduates ($934.50)
$171.75 * per credit hour for graduates or non-degree students (anybody in-state or out-of-state not enrolled at the University of New Mexico) ($1029.50)

* Tuition subject to slight increase each year beginning with the summer semester, and various adjustments in costs are possible. See UNM Student handbook for details
Room and Board Fee
$750.00 payable to the Department of Anthropology. Because of the number of applicants for this Field School, we require a $100 deposit from all applicants upon acceptance. Check or money order for the full amount must be received by May 15, 2005. Send payment(s) to:

Field School
Attn: Yolanda Nieto
Department of Anthropology
MSC 01-1040
University of New Mexico
Albuquerque, NM  87131-0001
Total Cost of field school at 2005  summer school tuition rates:
            Undergraduate: $1714.50
            Graduate:     $1779.50
Insurance
All participants must provide their own health insurance, and documentation of coverage is required before attending the field school. Summer health insurance can be obtained through the University of New Mexico, Student Health Center (505) 277-3136.
Any University of New Mexico student who was enrolled in the University Student Health Insurance Plan for the full academic year will also be covered during the summer at no additional charge.
If a student does not have health insurance, accident insurance can be purchased for $19.00 from the Department of Anthropology and will cover the student for the full 41 days of the field school.  This fee is in addition to tuition and room and board. Please speak to Yolanda Nieto about this option if you do not have health insurance.  
---
FACULTY AND OTHER PROJECT SCHOLARS
Ann F. Ramenofsky
Director and Associate Professor
Department of Anthropology, University of New Mexico
aramenof@unm.edu
(505) 277-2200
Steve Chomko
Cultural Resources Coordinator
Valles Caldera National Preserve
Anastasia Steffen
Archaeologist
Valles Caldera National Preserve
Michael Bremer
Forest Archaeologist
Santa Fe National Forest
Jeremy Kulisheck
Assistant Resource Area Archaeologist
Pecos-Las Vegas District,
Santa Fe National Forest
Jennifer Boyd
Assistant Resource Area Archaeologist
Jemez - Cuba District
Santa Fe National Forest
---
FOR MORE INFORMATION
To obtain additional information, write, call, or email:
Field School
Attn: Yolanda Nieto
Department of Anthropology
MSC 01-1040
University of New Mexico
Albuquerque, NM  87131-0001
505/277-1536
Email: ynieto@unm.edu