About Dr. Atkeson

Research

Links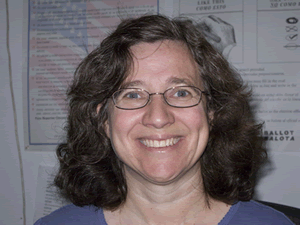 Dr. Lonna Rae Atkeson is a Professor and Regents' Lecturer in the Political Science Department at the University of New Mexico. Her general research program involves a wide number of subfields within political science including elections, campaigns, public opinion, political behavior, the media, political psychology, state politics, gender politics and political methodology.
Professor Atkeson has received a number of honors and grants for her work. In 1998, she received the "Emerging Scholar" award from the Political Parties and Organizations Section of the American Political Science Association. The University of New Mexico named her a Regents' Lecturer in 2001. She has consulted for Pew Charitable Trusts and has had several National Science Foundation Awards.
Recently, Professor Atkeson has received several grants from Pew Charitable Trusts and the Justice, Equality, Human Dignity, and Tolerance (JEHT) Foundation to assess electoral performance and analyze voter intent in New Mexico and the Southwest.
Email: atkeson@unm.edu
Office Telephone: (505) 277-7592