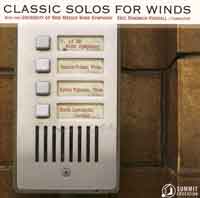 This recording features University of New Mexico faculty members, Valerie Potter, flute, Kevin Vigneau, oboe and Keith Lemmons, clarinet. On the recording:
Carmen Fantaisie  François Borne
Concertino for Flute  Cécile Chaminade
Concerto #2 for Oboe  Frigyes Hidas
Solo de Concours  Henri Rabaud
Solo de Concours  Andre Messager
Concertino, op. 26  Carl Maria von Weber
Available at Summit Records on iTunes or wherever find recordings are sold.