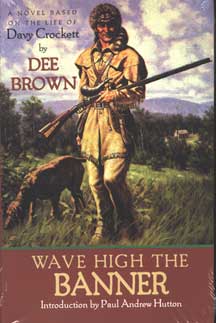 Albuquerque: University of New Mexico Press, 1942
ISBN: 0-8263-2013-9
Paperback
The introduction by historian Paul Andrew Hutton discusses the significance of Wave High the Banner in the Crockett literature and reviews the distinguished career of Dee Brown.

Dee Brown's best known books are Bury My Heart at Wounded Knee and The American West. He lives and writes in Little Rock, Arkansas. Paul Andrew Hutton .... is nationally known for his expertise on Davy Crockett.

First published in 1942 and unavailable for fifty years, Wave High the Banner is the little-known first novel by one of the most influential writers on the American West. Brown skillfully weaves fact and fiction to recount Crockett's earliest apprenticeships and first loves, his marriage to his childhood sweetheart, his numerous moves ever deeper into the wilderness, his turbulent years as a frontier politician in Tennessee, and his part in the doomed and bloody defense of the Alamo in Texas. Brown re-creates a complex and richly textured Crockett who was a soldier, lover, husband, father, widower, Indian fighter, hunter, humorist, local politician, and champion of the common people, both white and Indian.