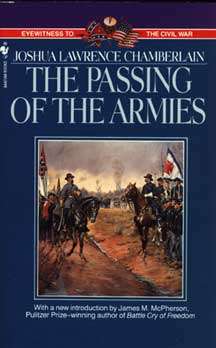 New York: Bantam Books, 1993
ISBN: 0-553-29992-1
Paperback, $6.99
In this unique series the Civil War comes vividly to life. Here are eyewitness accounts--many available for the first time in decades--by generals, journalists, and ordinary foot soldiers, both blue and gray, who relive the conflict in all its terrible glory. Each volume brings you a human perspective on the war--its most decisive battles, its most remarkable personalities. Bantam's Eyewitness to the Civil War is American history at its finest--and a reading experience you will never forget.
It was 1865 and the Army of the Potomac was on the move--in front of Petersburg, at White Oak Road and Five Forks, outmaneuvering and outfighting a beleaguered enemy. In this extraordinary memoir, Joshua Lawrence Chamberlain of the Fifth Corps records the dramatic final acts of the Civil War: Sheridan's rise, Warren's fall, and the slow inexorable stalking of Lee's forces across the battle-scarred countryside. With rare eloquence, Chamberlain describes the troop movements, the clash and chaos of battle, and the soul of a Union army under the confident new command of U.S. Grant. Here is an unmatched portrait of war's end--from the moment of Confederate staff office crossed the line bearing a white flag to the cold gray morning at Appomattox that sealed the South's defeat and sent two armies home to a nation changed forever.