1994 - María Celeste
Leading Actors: Sonya Smith, Miguel de León
Actuación Especial: Gabriela Spanic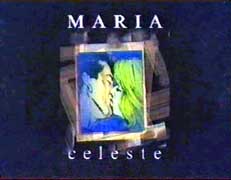 NEXT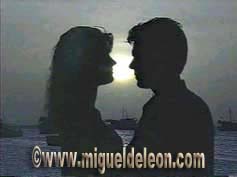 SYNOPSIS:
Daughter of a 70's rock-n-roller and an heiress, who abandoned everything to be with her musician lover, María Celeste (Sonya Smith) loses both parents in mysterious accidents. Still an infant, she's raised by one of her mother's friends, Martirio Paniagua (Belen Díaz), who likewise has a small daughter of her own, Irania (Fedra López). Both girls grow up as sisters and no one is any wiser.
Years later, María Celeste's maternal grandfather, Don Patricio Hidalgo (Rafael Briceño), finds out about her existence and sets out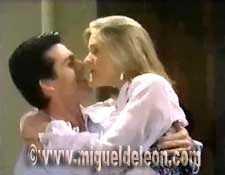 to find her at all cost for he wishes to leave her his fortune. Aware of the rich old man's plans, Irania, with her mother's reluctant help, manages to pass herself off as Don Patricio's granddaughter. Now everything that is rightfully María Celeste's belongs to Irania; including her true love. Because as fate would have it, both women fall passionately in love with the same man... brilliant corporate lawyer, Santiago Azpurua (Miguel de León): Don Patricio's godson, right-hand man and the Hidalgo consortium's Chief Executive Officer.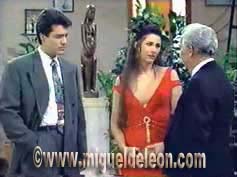 A victim of ambitious Irania's lies and schemes and unaware of her true identity, María Celeste tries to redo her life elsewhere. She meets successful businessman, Manaure Ledezma (Aroldo Betancourt), who hires her as his public relations representative and ends up falling in love with her. But María Celeste's heart still belongs to Santiago who is unhappily married to Irania.

Length: 152 episodes/1 hour
Produced by: Venevisión (Venezuela)
Shown in the U.S.: From 1-23-1995 to 8-25-1995 on Univision &
from 8-27-1996 to 3-27-1997 on Galavision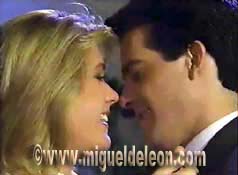 María Celeste and Santiago...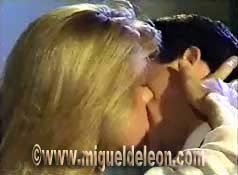 ...enjoy a brief moment alone...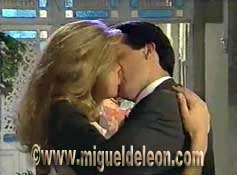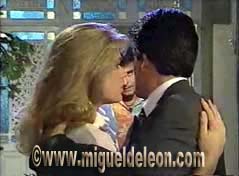 ...before being interrupted...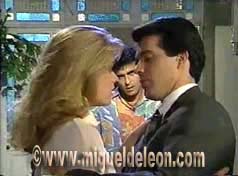 ...by one of María Celeste's friends...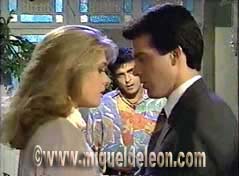 ...who thinks of himself as more than a friend.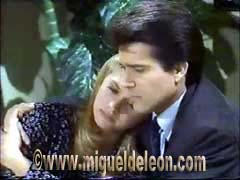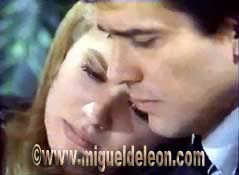 María Celeste and Santiago go through a lot of bad times together...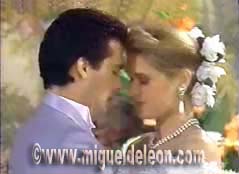 ...as well as good times.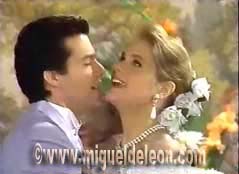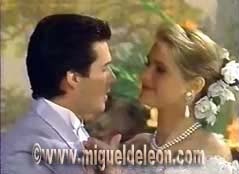 Here, María Celeste feels they should rejoin their wedding party. Santiago agrees...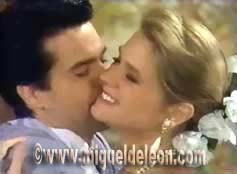 ...but only if the party consists of just the two of them.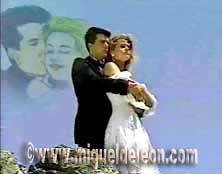 RESUMEN (EN PORTUGÚES)
RESUMO:
Filha de um roqueiro dos anos 70 e da herdeira de um rico fazendeiro, que abandona tudo para viver com o músico, María Celeste (Sonya Smith) perde os pais em um estranho acidente. Ainda criança, passa a ser criada por uma amiga de sua mãe, Martirio Paniágua (Belen Díaz), que também tem uma filha, Irania (Fedra López).
Anos mais tarde, Don Patricio Hidalgo (Rafael Briceño), o avô materno de María Celeste toma conhecimento da sua existência e passa a fazer de tudo para encontrar a neta. Quer deixar para ela toda sua fortuna. Inteirada dos planos do velho fazendeiro, Irania, contando com a cumplicidade ainda que involuntária da mãe, se faz passar por María Celeste. O destino faz ainda com que as duas irmãs se apaixonem pelo mesmo homem, o bem sucedido empresário Santiago Azpurua (Miguel de León).
Vítima das mentiras e maquinações tramadas pelo ambiciosa Irania, María Celeste, mesmo conhecendo a verdade sobre sua origem, tenta refazer sua vida afastando-se daqueles que a cercam. Procurando trabalho, vai parar na fazenda de Manaure Ledezma (Aroldo Betancourt), que a emprega como sua representante e acaba se apaixonando por ela. Mas o coração de María Celeste ainda pertence a Santiago, que já está de casamento marcado com Irania.

Duración: 152 capítulos/1 hora
Producción de: Venevisión (Venezuela)


Home Page