1999 - Nunca Te Olvidaré
Leading Actors: Edith González, Fernando Colunga
Actuación Especial: Miguel de León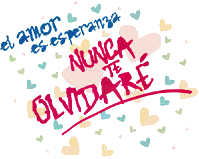 NEXT

SYNOPSIS:
Don Antonio Uribe, who lives on a ranch near the city of Guanajuato, receives a message from his former childhood sweetheart calling him to her deathbed. Isabel Clara begs Don Antonio to look after her daughter, Esperanza Gambóa (Edith González), and he promises to be like a second father to her. Consuelo (Alma Muriel), Don Antonio's wife, is resentful of Esperanza's presence and badly mistreats her. Luis Gustavo (Fernando Colunga) on the other hand, Consuelo's and Don Antonio's son, is immediately attracted to Esperanza. This is intolerable to Consuelo. She decides to separate them by sending Luis Gustavo away to study abroad and by placing Esperanza in a nun-run school. Ten years pass. Esperanza, a beautiful young woman now, returns to Don Antonio's ranch to take care of him because he's ill. Before dying, Don Antonio entrusts Fermín Requena (Humberto Elizondo), his neighbor and trust-worthy friend, with a letter for Luis Gustavo. In it, he gives his son his blessing in case he decides to marry Esperanza. When Luis Gustavo arrives home for the funeral and sees Esperanza, he falls deeply in love with her. But the beautiful Esperanza has likewise caught the attention of Fermin. Determined to possess her, he hides the letter and with Consuelo's help devises a plan to separate Luis Gustavo and Esperanza forever. Consuelo "confesses" to her son that Esperanza is his father's illegitimate daughter and his half-sister. A love story for all time that takes place in Guanajuato. Two hearts torn in half because of an infamous lie but still united forever by the force of love. An unforgettable love that neither time nor distance can erase.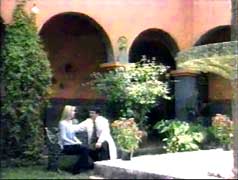 SUBPLOT: One of the setbacks to befall Esperanza is blindness caused by a fall from a horse. And so she meets Dr. Leonel Valderrama (Miguel de León) who heads his own institute for the blind. Leonel is a highly skilled Ophthalmologist/eye surgeon who is very beloved by his staff and patients and who falls in love with Esperanza. The tranquility of his clinic and his surgical adeptness do much to help Esperanza during this trying period.

Length: 190 episodes/1 hour
Produced by: Televisa S.A. de C.V. México
Shown in the U.S.: From 11-29-1999 to 4-10-2000 on Univision &
from 12-27-2000 to 5-5-2001 on Galavision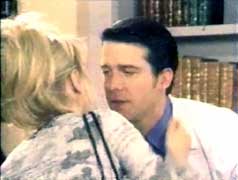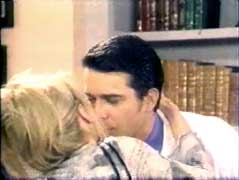 Dr. Leonel Valderrama gets a surprise visit from Esperanza.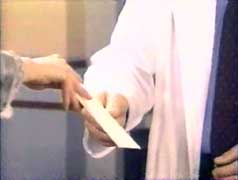 Even though it's just to hand him an invitation to her wedding,...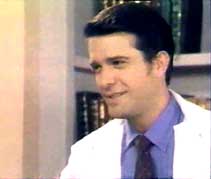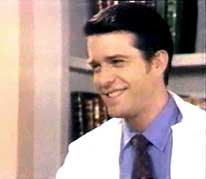 ...Leonel still enjoys her presence in his office.



RESUMEN:
Don Antonio Uribe vive en su rancho, cerca de la ciudad de Guanajuato. Un día, recibe un mensaje de Isabel Clara, su amor de la juventud, llamándolo a su lecho de muerte. Ella le ruega que cuide a su hija Esperanza (Edith González) y él le promete ser el segundo padre para la niña. Consuelo (Alma Muriel), la esposa de Antonio, siente resentimiento por la presencia de Esperanza y la trata muy mal, mientras que su hijo, Luis Gustavo (Fernando Colunga), se siente inmediatamente atraído por Esperanza. Esto, a Consuelo, le parece intolerable y decide separarlos enviando a Luis Gustavo a estudiar al extranjero y poniendo a Esperanza en un colegio pupilo de monjas. Diez años después, Esperanza se convirtió en una hermosa joven. Regresa al rancho para cuidar a Don Antonio, quien se encuentra enfermo. Antes de morir, Don Antonio le entrega a Fermin Requena (Humberto Elizondo), su vecino y amigo, con confianza, una carta para que él entregue a su hijo, donde le dá la bendición si es que decide casarse con Esperanza. Luis Gustavo regresa a la casa para el funeral y, cuando ve a Esperanza, se enamora perdidamente de ella. Pero la belleza de Esperanza también despierta el corazón de Fermin. Decidido a poseerla, esconde la carta, y junto a Consuelo, planean un siniestro plan para separarlos definitivamente. Consuelo le "confiesa" a Luis Gustavo que Esperanza es hija ilegítima de su padre, y por lo tanto, su medio-hermana. Una historia de amor de todos los tiempos, que sucede en los escenarios coloniales de Guanajuato. Dos corazones partidos en dos for una infame mentira, pero unidos para siempre por la fuerza de su amor, un amor inolvidable, que ni el tiempo ni la distancia pueden borrar.

Duración: 190 capítulos/1 hora
Producción de: Televisa S.A. de C.V. México
En México: De 1-18-1999 a 5-28-1999 por Televisa


Home Page