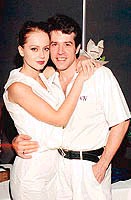 Even though Gaby Spanic and Miguel de León will be celebrating their second wedding anniversary on October 22, they still live a never-ending honeymoon.
Holding hands and gazing into each others eyes, Gaby and Miguel assured us their relationship's success is due to the love and respect that exists between them.
"He's always with me when he can; no matter where I am," said Gaby as she looked turning her eyes towards the also-actor Miguel de León.
"There are occasions when we have to separate because of our jobs but we make up for it when we see each other [again]. Though for me, a few days without seeing him seem like months," affirmed Gaby who will proximately be departing to various countries to promote the telenovela "La Usurpadora".
Brasil and Chile among other South American countries will be visited by part of the cast of the "La Usurpadora"; the telenovela is actually being transmitted in several countries throughout the world.
Even though she has little time for it, Gaby indicated she likes to cook whenever she can.
Regarding her favorite dishes, she mentioned they love: seafood, especially the ones from Sonora; pozole; and now that they've discovered the culinary cuisine of Sonora, they love the large flour tortillas, the "machaca" meat and, of course, the various meat cuts.

MIGUEL PAMPERS HER A LOT

The language between Gaby and Miguel is fashioned with sweet talk and they refer to each other as "papi" and "mami".
Gaby confessed she's a little on the lazy side when it comes to waking up but that her husband knows how to wake her up happy.
"It's a good thing it was she who confessed about her being lazy; but taking her a cup of coffee and an orange juice in bed" awakens her well and happy.
"Well, waking her up also includes a kiss," commented Miguel with a mischievous smile. The actor has already participated in several Mexican telenovelas.
Regarding the Sonoran heat, Gaby indicated she has definitely not felt it.
"What happens is this climate is very similar to Venezuela's; so instead of it tiring me, I like it. I've enjoyed it incredibly," assured the actress who interprets "Cielo" in the telenovela "Por Tu Amor" which ends today.
Regarding the telenovela's ending, the actress indicated it was very predictable.
"Look," continued Gaby Spanic, "everyone can see it coming because there aren't many options. 'Cielo' and 'Marco' adore each other in spite of the many problems that have existed between them."
The actress expressed she is very grateful to the public for accepting the story so well.
"Throughout the entire development of the close to 180 chapters, the telenovela maintained itself between first and second place [in the ratings]. It's finishing in first [place], above all the others, and that is due to the public's preference," assured Gaby as she emerged from the swimming pool.
"I'm taking maximum advantage of this delicious water, of the natural sights and of this warmth which I so adore before we head back to the capital again."