Chamber Music Albuquerque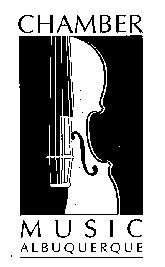 Chamber Music Albuquerque is the umbrella organization of the June Music Festival and Chamber Music at the Simms. Its primary mission is to bring the world's greatest chamber music and finest ensembles to New Mexico.  The June Music Festival, founded in 1942 by Ruth Hanna McCormick and Albert G. Simms, is one of the oldest continuing music festivals in the United States.  With the addition of Chamber Music at the Simms, in 1997, Chamber Music Albuquerque offers concerts year-round.
Chamber Music Albuquerque also encourages greater appreciation of chamber music through free pre-concert lectures one hour before all Sunday performances.  Family Concerts introduce younger listeners and their parents to chamber music, although all are welcome to attend these informal, one-hour events.  In-school residencies also are conducted several times each season by both visiting artists and local chamber music ensembles.
All concerts (unless otherwise noted) are at the Simms Center For The Performing Arts, Albuquerque Academy.
Additional information can be obtained from

Chamber Music Albuquerque
2400 Louisiana Blvd. NE
AFC 3, Suite 215
Albuquerque NM 87110
Telephone: 268-1990, Fax: 268-6288
To get added to the Chamber Music Albuquerque mailing list, request a free brochure, or contact Chamber Music Albuquerque by e-mail about tickets or other matters click here.

Visit the Chamber Music Albuquerque Official Home Page.
---
2001-2002 Program Information
Chamber Music at the Simms
Sunday, November 4, 3:00 PM


The Jacques Thibaud Trio
Simms Center For The Performing Arts, Albuquerque Academy
Beethoven (String Trio in c Minor, Opus 9, No. 3)
Jean Francaix (String Trio (1933))
W. F. Bach and J. S. Bach/Mozart (Two Adagios and Fugues, K. 404a)
Dohnányi (Serenade in C, Opus 10)



Sunday, February 10, 3:00 PM


The St. Petersburg String Quartet
Simms Center For The Performing Arts, Albuquerque Academy
Borodin (Quartet No. 2 in D)
Prokofiev (Quartet No. 2 in F, Opus 92)
Shostakovich (Quartet No. 2 in A, Opus 68)



Sunday, April 7, 3:00 PM


The Cypress String Quartet with Awadagin Pratt, piano
Simms Center For The Performing Arts, Albuquerque Academy
Haydn (Quartet in D, Opus 76, No. 5)
Beethoven (Piano Sonata in A-flat, Opus 110)
Dvorák (Piano Quintet in A, Opus 81)
June Music Festival
Friday, June 7, 8:00 PM


The American String Quartet
, 10000 Spain NE
Mozart (Quartet in D, K. 499)
Berg (String Quartet, Opus 3)
Beethoven (Quartet in c-sharp minor, Opus 131)



Sunday, June 9, 4:00 PM


The American String Quartet
Simms Center For The Performing Arts, Albuquerque Academy
Mozart (Quartet in E-flat, K. 428)
Debussy (Quartet in g minor, Opus 10)
Brahms (Quartet in c minor, Opus 51, No. 1)



Friday, June 14, 8:00 PM


The Takács Quartet
Simms Center For The Performing Arts, Albuquerque Academy
Beethoven (Quartet in G Major, Op. 18, No. 2)
Britten (String Quartet No. 3)
Schubert (Quartet in d minor, D. 810, "Death and the Maiden")



Sunday, June 16, 4:00 PM


The Takács Quartet
Simms Center For The Performing Arts, Albuquerque Academy
Beethoven (Quartet in B-flat Major, Op. 18, No. 6)
Ravel (Quartet in F Major)
Smetana (Quartet No. 1 in e minor, "From My Life")



Friday, June 21, 8:00 PM


The Eroica Trio
Simms Center For The Performing Arts, Albuquerque Academy
Beethoven (Trio No. 6 in E-flat Major, Opus 11)
Paul Schoenfield (Café Music)
Schubert (Trio in E-flat Major, Opus 100 (D. 929))



Sunday, June 23, 4:00 PM


The Eroica Trio
Simms Center For The Performing Arts, Albuquerque Academy
Various Composers (Chaconne Special Program)
Lalo (Trio in C Minor, Opus 7)
Brahms (Trio No. 2 in C Major, Opus 87)



Return to