Pajarito Astronomers
* About the Club * Public Observing Sessions * Meetings & Talks *
* Membership Form * Astro Links * Questions? *
---
About the Club
The Pajarito Astronomers is a club consisting of approximately 30 professional and amateur astronomers from throughout northern New Mexico. For annual dues of $10, club members are provided the Abrams Planetarium monthly astronomical events calendars and monthly newsletters that include both astronomical and club information. Members may check out books from the club's reference library. Members can also receive discounts on selected astronomy-related items. Membership form.
From late-spring to early-autumn, the Pajarito Astronomers Club holds County-Sponsored "Dark Night" observing sessions at Overlook Park in White Rock, New Mexico. These sessions are open to the public and occur once a month (on a Saturday evening near a new moon) when Los Alamos County turns off all the athletic field lights at the park. A typical session will have 50-100 people looking through 5-10 telescopes, viewing galaxies, planets, star clusters, the moon, and much more. Weather permitting, observing sessions start at sunset and end before 1 AM.
As a community service, the Pajarito Astronomers sponsors public talks in Los Alamos. Invited speakers cover a wide variety of topics in space science, astronomy, and astrophysics.
The club also provides awards at the Los Alamos science fair for space science and astronomy projects. Several times a year, upon request, club members provide constellation tours of the night sky, telescope tours of the night sky, or astronomy lectures to organizations or school classes. And occasionally throughout the year, club members provide planetarium shows at schools or fairs. The planetarium is typically provided by the group requesting a show, or provided through Los Alamos National Laboratory's educational outreach office.
Club events are announced in the Los Alamos Monitor (lamonitor.com), the Los Alamos Daily Post (ladailypost.com) and KRSN-1490. For more information about the Pajarito Astronomers, contact any of the club officers listed lower on this page.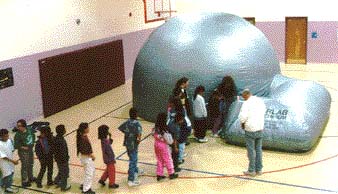 Club members Tom Pigott, Jim Orr, and Dave Hollowell
prepare to show San Juan Pueblo Elementary School
students the wonders of the Starlab Planetarium.
---
2022 Pajarito Astronomers County-Sponsored
Dark Night Public Observing Sessions
Here are the dates for the County-Sponsored Dark Nights that have been accepted by the Los Alamos County Parks and Rec. Note that the weather can cancel any of these dates.
Dark Nights begin at sunset at Spirio Soccer Field at Overlook Park in White Rock. The solar-system objects listed in this table are those that may be visible between sunset and 12:00 Midnight. Also visible will be a variety of colorful double stars, galaxies, gaseous nebulae, open star clusters, and globular star clusters. A constellation tour of the night sky will be provided. The public is invited and encouraged to attend. Observing will end before 12:00 Midnight.
| | | |
| --- | --- | --- |
| DARK NIGHT DATE | SUNSET | SKY ACTIVITY BEFORE 12:00 Midnight |
| Saturday, April 30 | 7:52 PM | |
| Saturday, May 28 | 8:15 PM | |
| Saturday, June 25 | 8:27 PM | |
| Saturday, July 30 | 8:13 PM | |
| Saturday, Aug. 27 | 7:41 PM | |
| Saturday, Sept. 24 | 7:00 PM | |
| Saturday, Oct. 22 | 6:22 PM | |
| Saturday, Nov. 19 | 4:46 PM | |
To get to Overlook Park:
From Pojoaque, take State Route 502 west (towards Los Alamos). After driving 13 miles on Rt. 502, turn on to State Route 4, to go to White Rock/Bandelier. Staying on Rt. 4 for 4 miles, enter White Rock and turn left at the first street, Rover Blvd. Go one block and turn left onto Meadow Lane. Follow Meadow Ln. 3/4 of a mile and turn left into Overlook Park. Spirio Soccer Field is the first large field on your right, just before the concession stand building. When you enter the parking lot, please dim your car lights so that you do not interfere with the observations.
---
Meetings and Public Talks
The Pajarito Astronomers occasionally schedule public talks covering a wide variety of topics in space science, astronomy, and astrophysics. Watch this space for notices of meetings and talks.
Next Meeting / Public Talk:
Topic:

Speaker:

Date:
Time:
Place: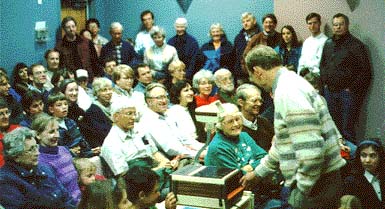 Dr. John Keady gives one of two standing-room-only
talks about comets at the Bradbury Science Museum.
---
Pajarito Astronomers Facebook Page
Visit the Pajarito Astronomers Facebook Page to see post by members, including photos, drawings, and reports of observations they have made.
---
Some of Our Favorite Astronomy Links
---
Questions?
If you have any questions, you can contact one of the club officers:
Pajarito Astronomers
P. O. Box 1092
Los Alamos NM 87544
---

This Web Page updated 4-April-2022 by Thomas E. Beach