Quick Links
Florence Hawley Ellis Papers

The Ellis Display Case in the Anthropology Department Hallway, University of New Mexico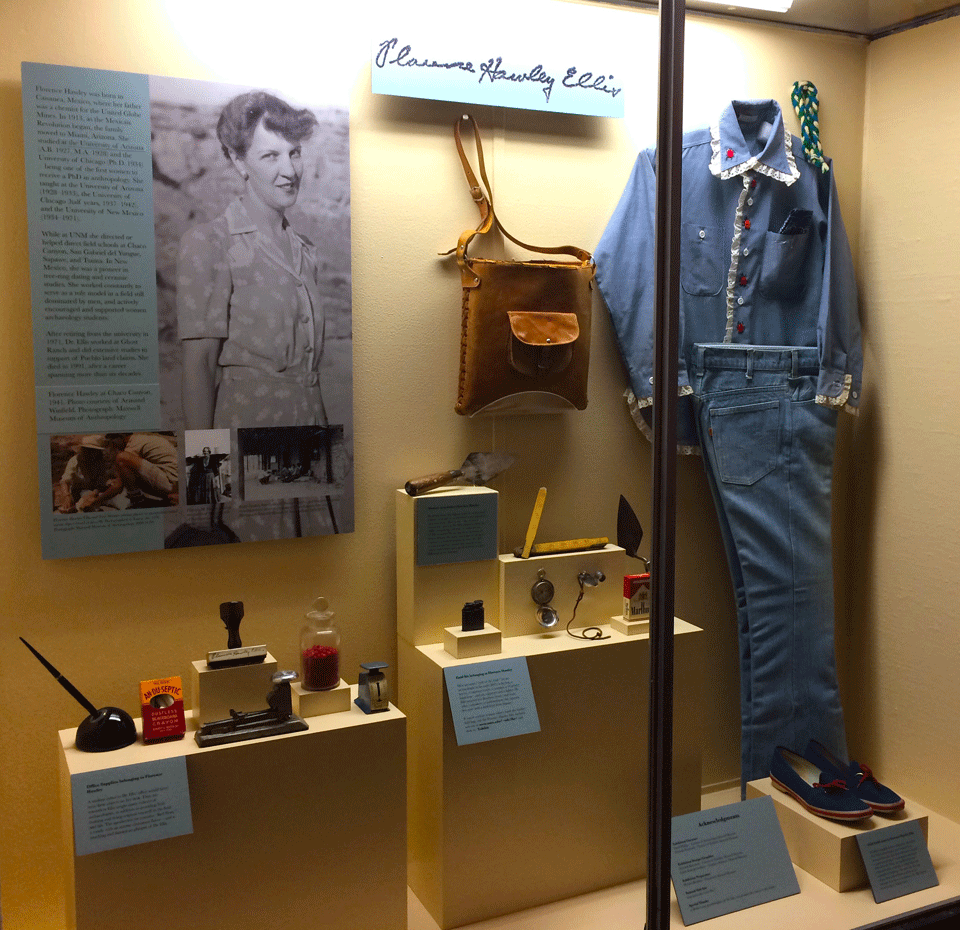 Photograph by Devorah Romanek

In August 2014, the Maxwell Museum created a small hallway exhibit on Florence Hawley Ellis. The display case can be found in UNM's anthropology department, not far from where Dr. Ellis once had her office. One of the items on display is her leather "dig bag," used to hold small tools and other items during archaeological fieldwork. In preparing for the exhibit we examined the contents of the dig bag. The small outer pocket is empty but the main pocket contains a number of items that archaeologists find useful in the field. Visitors can't see what's in the bag, so the contents are listed below.
Pair of knee pads
Whisk broom
Toothbrush (used to clean objects in the field)
Pocket knife on a large binder ring
4 by 6 inch spiral-bound notebook
No. 2 pencil; No. 2 1/2 pencil; two No. 3 pencils
Three markers bundled with a rubber band
Black grease pencil
Mechanical pencil
"6-12" Brand insect repellent towelette
Pen-style insect bite medicine applicator
Box of Triaminicin brand (seasonal allergy) pills
Two "Wash'n Dri" Brand towelettes
Small first aid gauze pad in wrapper
Small cylindrical tin of adhesive bandages
Four loose rubber bands
Small wad of toilet paper
U.S. Penny, dated 1984
Two empty plastic bags
Length of string
If you visit the Maxwell Museum of Anthropology during its regular exhibit hours (10 A.M. to 4 P.M. Tuesday–Saturday; closed major holidays), the Museum front desk staff can direct you to the Florence Hawley Ellis display case.
---
See source code for copyright details.
Page last revised on June 17, 2015.
Please report problems to dap@unm.edu