While Jarrin Solomon may be a lone wolf when it comes to New Mexico Olympic medalists this year, he comes from a pack of successful Lobos.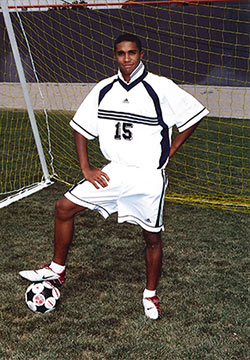 Jarrin Solomon turned down a soccer
scholarship to attend the University of
New Mexico.
Solomon's parents met while in college at the University of New Mexico.  His dad, Michael, was an all American sprinter, who went on to become a two time Olympian for his native Trinidad and Tobago.  Mom Susie graduated from UNM's College of Nursing and now works for Presbyterian Hospital.  Big sister Britton got her degree in criminology and is back in the classroom now working toward a master's.
"It's kind of been running in the family for the past 30 years or so," Solomon said. "UNM is where we all went to school "
Solomon almost broke that family tradition. He planned to accept a soccer scholarship to an east coast university.   At the last minute, he turned it down and enrolled at UNM.
"It was too late for him to get scholarship money for athletics, so he used the lottery scholarship and then walked on to the track team," Susie Solomon said.  "But after that first year, he got scholarship money to run."
Solomon followed in his father's track spikes and eventually ran right past him. He and his father were both named All American during their UNM college days. The elder Solomon held an NCAA record that stood for more than 30 years. Just this year, the son beat the father's Moscow Olympic time of 45.77 with a personal best of 45.13 in Germany.
"Records are made to be broken," Solomon said.  "My dad wanted me to break it. He said if my record is going to be broken, I'm glad it's him."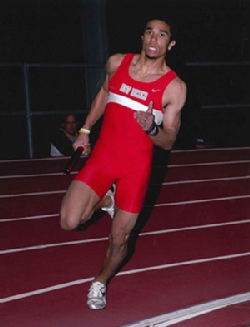 Jarrin Solomon completed his Lobo graduated
and completed his eligibility in 2008.
It wasn't until Solomon made his first international team in 2007 that he realized he had a chance to make it to the Olympics.  A bout with pneumonia and a stress fracture forced him to red shirt his junior year and put that dream for the 2008 games on hold.
After graduating in 2008, Solomon finished out his eligibility, then began running as a pro and working as a personal trainer. Because of his father's heritage, Solomon has dual citizenship with Trinidad and Tobago, which he represented in London at the 2012 Olympics.
Solomon missed qualifying for the individual 400 competition by only one one-hundredth of a second, but had the race of his life in the second leg of the men's 4 by 400 relay with a 44.3 second split. After passing the baton, he watched his teammate cross the line finish line right behind the US team. They secured the bronze medal with a time of 2 minutes 59. 4 seconds setting a new national record for the Caribbean country.
"I want to go back as many times as I can. That was one of the best experiences of my life and I want to relive it again and again," he said.
With his sights now set on the 2016 Olympics in Rio de Janeiro, Solomon continues training here in Albuquerque with some of his former UNM coaches.
And his advice to other aspiring athletes is simple: Be dedicated.
"If you try hard, if you train hard, if you work hard enough, you can be a Olympian, just like me."