Religion. Politics. Business. Community life, and their impact on democracy. These are topics that many are willing to debate with their friends, or fight over online with their adversaries. University of New Mexico Sociology Associate Professor Richard Wood looks at these areas with a researcher's curiosity and a scientist's critical eye. 
Wood, also the director of the UNM's Southwest Institute on Religion and Civil Society takes his knowledge, gleaned from work in the United States, Latin America and other parts of the globe, and shares it with his students. He believes that a deeper understanding of faith communities and their impact on local communities and government policy may be key to addressing some of the crucial economic and social problems America is facing. Currently Wood is splitting his research time between projects in the United States and Latin America.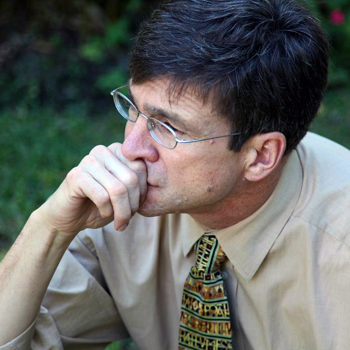 Richard Wood
He tackles some of the most controversial topics discussed in the media – the impact of religion on society, politics, and social justice throughout the United States, Latin America and the Middle East. He focuses on these areas because of the central role they play in everyday life for people around the world.
 "It's controversial because it's important," Wood said. "How people think about the world is partially shaped by their religious commitments, and I think that understanding religion is critical. It's more, not less, important today in American society, and in societies all over the world."
His work in the United States focuses on what he calls "faith-based community organizing," in which people from a variety of religious backgrounds work together for the betterment of their local community. Usually these groups come from lower and middle class communities trying to approach those in positions of power.
"It's the kind of community organizing that our president did in Chicago a long time ago," Wood said. "I look at the strengths and weaknesses of that way of drawing on people's spiritual commitments in a way that's appropriate in a democratic political arena, where we're not all of the same faith, or of any faith. How can we best come together across those divides?"
UNM's Richard Wood Talking About his Recent Research Projects
Wood will also be dedicating more of his time to a new project focused in Latin America, and the seismic shift in religious belief in the region in recent years. The area used to be overwhelmingly Catholic, until 20 years ago, when scientists started noticing that many in Latin America were converting to different forms of Pentecostal or Evangelical Christianity. Wood's research looks at the impact this shift is having on Latin American society, and how this religious change might impact the future of democracy in the region.

Wood explained that as Pentecostal Christians converted more Latin Americans, they realized that many of the converts were from the region's lower classes. "So the pastor is trying to serve a congregation of struggling, poor folks and maybe starts asking new questions about poverty, about the role of their church in a world with this kind of inequality."
This then drove some evangelical pastors throughout Latin America, many of whom had been conservative religious leaders, to start holding the area's religious and political leaders accountable to serve the lower class majorities of their countries.
Wood and Jeannette Aguilar of the Universidad Centroamericana (UCA) in San Salvador wrote the original grant proposal and jointly led this research project. The $400,000 research project in Central America supported one of five regional centers worldwide coordinated by the University of Southern California's Center on Religion and Civic Culture, with funding from the John Templeton Foundation. The other projects are located in South America, Africa, Indonesia, and Russia.

UNM's Richard Wood on How His Research Influences His Students
Wood and Aguilar's Central America project involved research teams made up of local scholars in three countries: Nicaragua, El Salvador, and Guatemala). The overall project was coordinated by the UCA's Instituto Universitario de Opinion Publica. Results of their research will be published in Spanish by UCA Editores, in English by Oxford University Press, and in both languages in a variety of scholarly journals.
Getting graduate students involved in his research is important to Wood, who believes that exposing future professors and civic leaders involved in on-the-ground research is important to showing students a broader view of the world, their community, and what they are studying.
"I try to challenge my students to think not just about their careers, but also the responsibility and the privilege of being a graduate student and how to use their studies in a way that advances knowledge, but also advances their community," Wood said.


Feature Photo:  Ted Yamamori (Center on Religion & Civic Culture), translator, Carmen Guevara (head of El Salvador research team), Jeannette Aguilar (Executive Director of UCA/IUDOP and project director), Karla Rodriguez (UCA/IUDOP and project coordinator), Rich Wood.