Class, Please review the PHASE, Name and what is happening in that phase of the depolarization & repolarization timeline of a ventricular myocyte. Then do the SELF-STUDY quiz below and check your work.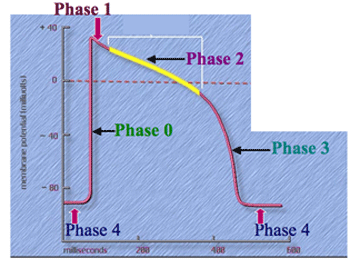 Phase 4: Restoring with the Na+K+ pump (Na+ extracellular, K+ intracellular), RMP is -90mV
Phase 0: Depolarization; Influx of Na+ through FAST Na+ channels
Phase 1: Early Rapid Repolarization: K+ efflux, Fast Na+ channels close
Phase 2: Slow Repolarization (plateau phase): K+ efflux, influx of Ca++ and Na+ (SLOW Na+ channels)
Phase 3: Final Rapid Repolarization: K+ efflux, Ca++ and SLOW Na+ channels close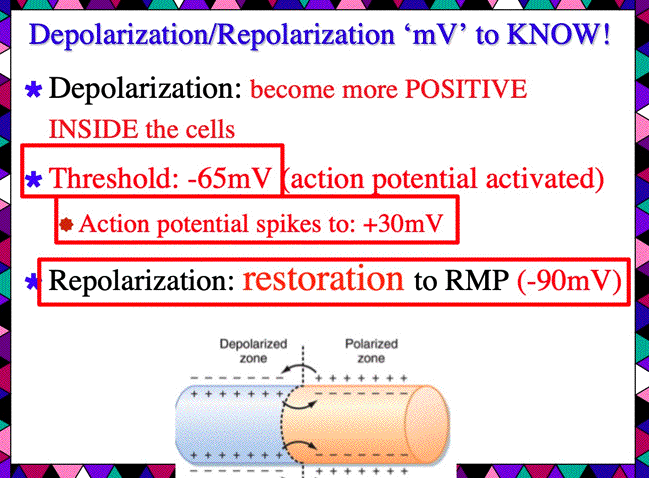 SELF-STUDY QUIZ OF DEPOLARIZATION AND REPOLARIZATION TIMELINE.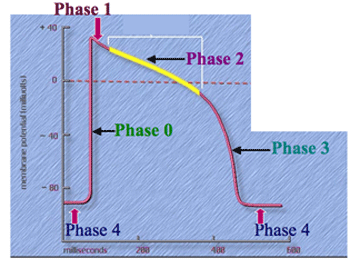 Phase 4:


Phase 0:


Phase 1:


Phsee 2:


Phase 3: