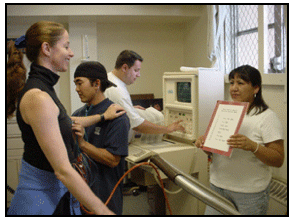 Exercise Science Program Mission
The mission of UNM's Exercise Science program is to provide our students with the didactic, experiential, and ethical foundation in the study of human physiology and movement necessary to succeed in their choice of career, professional field of study, and advanced academic work. This mission is achieved through engaging lecture and hands-on laboratory instruction, scholarship, and service-learning designed to promote and develop critical thinking, laboratory skills, effective communication skills, and a passion for lifelong learning. The undergraduate and masters programs prepare students for continued education in Physical Therapy, Occupational Therapy, nursing, medicine, or clinical research, as well as to function professionally as exercise physiologists/scientists in health/fitness clubs, corporate health promotion programs, academic, and clinical settings. The PhD program prepares exercise science researchers, professors, and preventative and/or rehabilitative program directors.

Through active participation in and application of scientific research, the Exercise Science students and renowned faculty, in partnership with our community, collaborate to identify and develop solutions for individual, local, and global challenges related to health, fitness, and optimal human performance. New Mexico's multicultural population presents our program with innumerable opportunities to favorably impact the state's citizens through scientifically accurate and culturally sensitive information pertaining to the benefits of a healthy, physically active lifestyle as recommended by our learned societies and national health initiatives.

In light of this mission, the goals of the Exercise Science Program are:

Research. To support and promote basic, applied, clinical, and interdisciplinary research and to strengthen research quality of faculty and students in the Exercise Science Program, as well as allied health programs.
Education. To promote quality teaching and learning for exercise science students, practitioners, and the public at-large.
Leadership. To play a leadership role in the promotion of life-long physical activity and physical fitness for all individuals.
Professionalism. To encourage exercise science students to continue their professional development through participation in activities sponsored by professional organizations.

Certification. To enhance the quality of clinical practice in exercise science by encouraging students and practitioners to obtain national certifications sponsored by professional organizations.

In order to best achieve these goals, the Exercise Science Program recognizes the importance of and makes a commitment to promoting:
Interdisciplinary linkages and collaboration with other UNM programs, other research and teaching institutions, and the community at-large.
Multidisciplinary and interdisciplinary knowledge base for exercise science students and professionals.
Sensitivity to the diverse needs of individuals with differing abilities, interests, and cultural backgrounds.
Reflective practice which enables practitioners to bridge the gap between theory, research, and experience and encourages them to use their knowledge for making informed decisions about practice.