Click here for a flyer of the events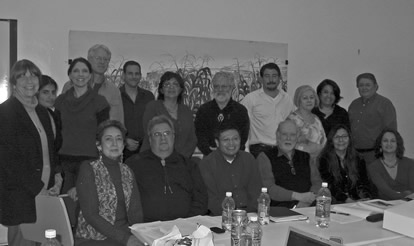 Description of the workshop:
Decoloniality and the Southwest:
Further Thoughts on Local Histories, Global Designs and the Geopolitics of Sensing/Knowing

Workshop organized by
Michael Trujillo and Walter Mignolo

February 18, 2011

Walter D. Mignolo is the William H. Wannamaker Distinguished Professor of Romance Studies, Literature, and Cultural Anthropology at Duke University and the Director of the Center for Global Studies and the Humanities. His books, The Darker Side of the Renaissance, and The Idea of Latin America have received the Katherine Kovacs Singer Prize from the MLA the Frantz Fanon Prize from the Caribbean Philosophical Association, respectively. His book Local Histories/Global Designs applies postcolonial theory to Latin America and is in dialogue with Chicano Studies. He is a major postcolonial thinker who has had a wide impact in the United States, Latin America, and Europe.

Sponsors: Southwest Hispanic Research Institute, Division of Student Affairs, American Studies, Anthropology, and the Institute for American Indian Research.

Date and Location: Friday, February 18, Anthropology 178

Description and Theme: Dr. Mignolo has titled his workshop "Decoloniality and the Southwest: Further Thoughts on Local Histories, Global Designs, and the Geopolitics of Sensing/Knowing." In his workshops, he creates a space that fosters and develops a critical dialogue. They are not only places to share research but also locations where new knowledge is produced.
The workshop will consist of three panels. Each will consist of three presentations of 15 minutes. One faculty member will coordinate and moderate the discussion. The presentations will not be papers, rather they should reflect personal engagement with the workshop theme.

Dr. Mignolo will facilitate a dialogue among different projects in which decolonization is a common denominator. Since the Bandung conference of Third World and the non-aligned countries (1955), the concept of "decolonization" was geopolitically marked by projects in the political society in which the goal was not revolution against the state. Rather the term has a more immediate meaning for specific communities. Decolonization has been used by Native Americans, Chicana/os and Latino/as in general, by aboriginal people in New Zealand, by pueblos originarios in the Southern Andes, Southern Mexico, and Central America. Today it is used in a wide array of disciplines from management to environmental studies. The main thrust will be to sketch a map of projects that are indirectly conversant through the uses of decolonization but that are not yet exploiting the potentials and the possibilities of networking to displace global imperial designs by networks of local decolonial histories.

Related Articles: We discussed three relevant articles. More information on his work may be found at http://waltermignolo.com/publications/

• "Epistemic Disobedience, Independent Thought and De-Colonial Freedom" in Theory, Culture, and Society, Vol. 26(7-8): 1-23, 2009
• "Mignolo's Epistemology of Coloniality" CR: The New Centennial Review Volume 7, Number 3, Winter 2007
• "The Geopolitics of Knowledge and the Colonial Difference," SAQ 101.1 (Winter 2002): 56-96.

Workshop Schedule:

10-12:00 Panel One
Lloyd Lee (IFAIR)
Erin Debenport (ANTH)
Enrique Lamadrid (SHRI)
12:00-1:00 Lunch

1:00-3:00 Panel Two
Manuel Garcia y Griego (SHRI)
Beverly Singer (IFAIR and ANTH)
Alex Lubin (AMST)
3:00-3:15 Coffee Break

3:15-5:15 Panel Three
Jennifer Denetdale (AMST and IFAIR)
Les Field (ANTH)
Miguel Gandert (SHRI)