Denise Chavez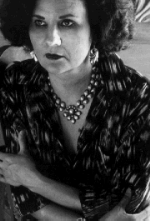 Denise Chavez offers us the voice of a new generation of Hispanic Women: educated, articulate, bursting with energy and drive. A native of the New Mexican borderlands, she brings to her writing a keen eye for social pretences and the frailties of the human heart. Like Rudolfo Anaya, she is New Mexican; but where his New Mexico is the open range of the West Texas border and the bustle of Albuquerque, Chavez is rooted in the low desert of the southern border. The beauty and heat of this landscape informs her work and her characters. She too draws on the traditions of storytelling and folk dramas in the Hispanic Southwest; like Rudolfo Anaya, she revels in a distinctly American magical realism. Today, Chavez has become one of the leading writers documenting the unique culture of the Mexican-American border. In 2000, she won the LAYLA-Wallace Reader's Digest Writer's Award for her second borderlands novel,

Loving Pedro Infante

. For many years, she has taught at the Department of English at New Mexico State University in Las Cruces, New Mexico.

"Anybody that has eaten chile in New Mexico knows why we love our chile and why we love our land so much, because our writing is spicy and pungent, it's of the earth and of the people; and when you eat the earth and eat the sweat of the people that have worked there, it's like my grandmother says, 'como chile colorado,' like red chile. It goes through your whole system and becomes part of you."
-Denise Chavez
---
Click here to hear an excerpt on Denise Chavez from Writing the Southwest.
---
Listen to the half-hour documentary on Denise Chavez by David Dunaway below: