The People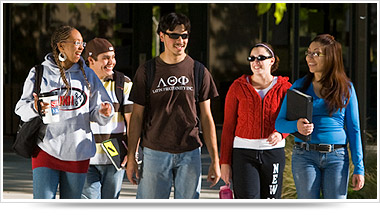 As a Hispanic-Serving Institution, the University represents a cross-section of cultures and backgrounds. In fall of 2013 28,644 students , attended main campus with another 7,609 students at branch campuses and education centers.  
UNM boasts an outstanding faculty that includes a Nobel Laureate, two MacArthur Fellows, 35 Fulbright scholars and several members of national academies. Faculty publish in many professional journals including Scientific American, The New England Journal of Medicine and Nature. UNM professors have been quoted in Newsweek, Los Angeles Times, Business Week, People Magazine, Parade Magazine, U.S. News and World Report, and The New Yorker, among others. They have shared their expertise on CNN, the Today Show, Good Morning America, Nova National Geographic and other news shows.
UNM employs more than 20,000 people statewide, including employees of University Hospital. It has more than 159,000 active alumni, with Lobos in every state and more than 1,400  alumni outside the U.S. More than half of UNM's alumni choose to remain in New Mexico.