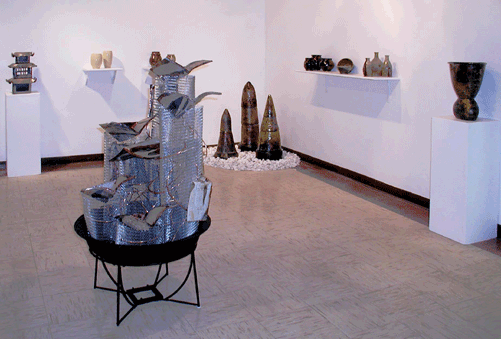 The show this year is more sculptural. Scale, multiples and the development of ideas are new focuses.
An exciting touch is the international flavor. It is a pleasure to show works by Doug Black and Aaron Scythe. The two that introduced me to hikidashi in Japan were gracious enough ship a few pieces to be a part of the 1st Annual Hikidashi Fire Show. They were part of last years show in writing. I explained how they just started to do the rare firing technique together there. We keep in contact about our hikidashi progress through e-mail and digital images. It is cool to see their development of hikidashi going on there while we find our way here.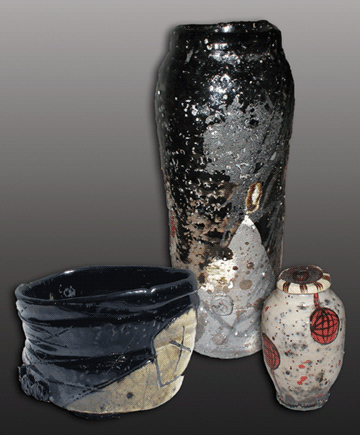 left to right: UFO Tea Bowl Aaron Scythe (Mashiko Japan), Hikidashi Guro Vessel, Comet-001 Douglas Black (Motegi Japan) , Tea Caddy Aaron Scythe

Hikidashi has come a long way in its second year at UNM Valencia.
Last years show was about figuring out how to do hikidashi with our equipment and materials. There was a large variety of work testing out different directions.
Since then I have lectured on hikidashi for art groups and colleges nationally. It still remains a relatively unknown process that will soon come to light as a specialty of UNM Valencia.