Links Rápidos
Quick Links
Arqueología del Noroeste de México: Un "Rudo Ensayo"
David Phillips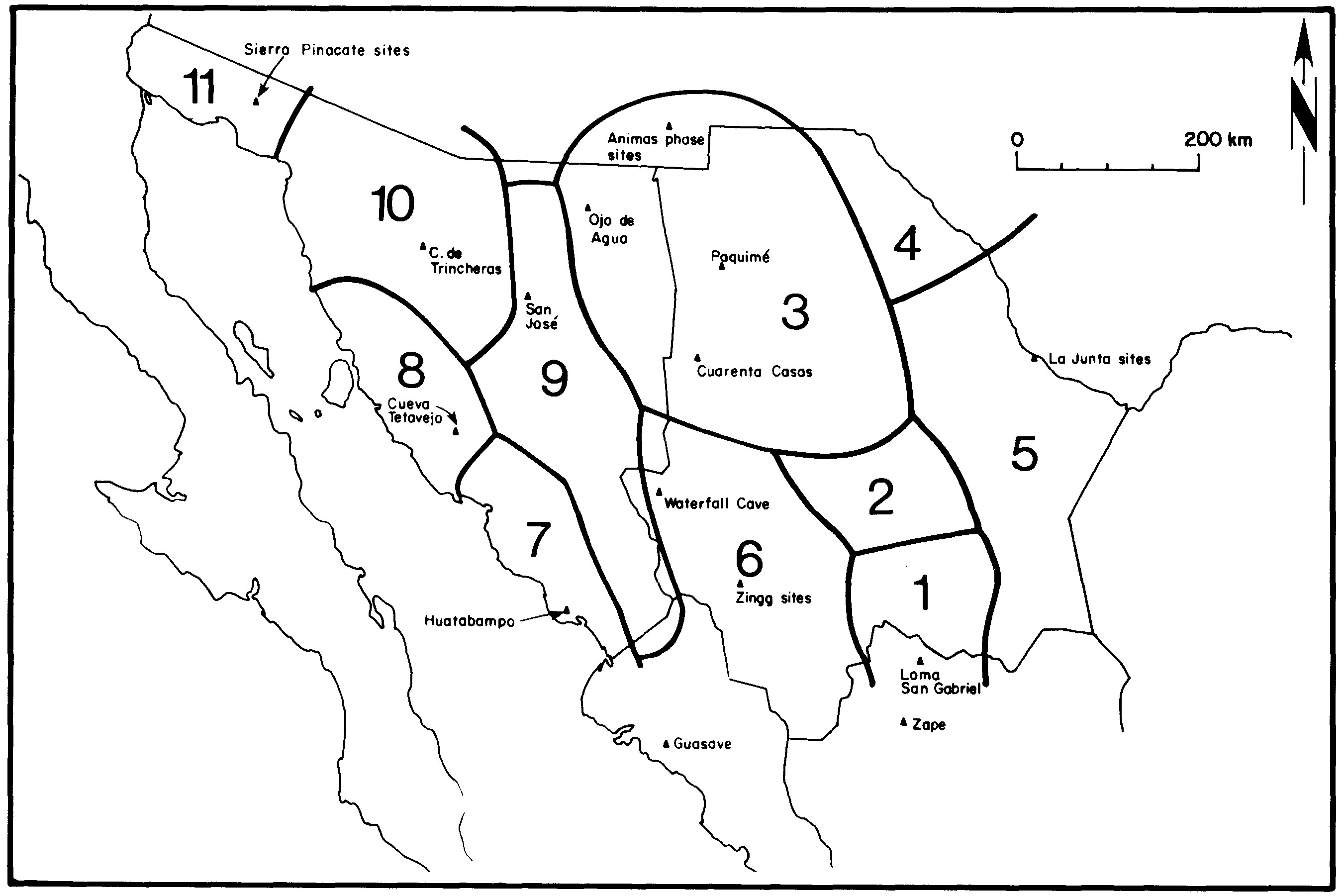 Áreas arqueológicos del noroeste de México: (1) norte de Durango y sur de Chihuahua (cultura Loma San Gabriel); (2) centro de Chihuahua (cultura Bustillos); (3) cultura Casas Grandes; (4) noreste de Chihuahua (área Jornada de la cultura Mogollón); (5) sureste de Chihuahua; (6) suroeste de Chihuahua; (7) zona costal del norte de Sinaloa y del sur de Sonora; (8) zona costal central de Sonora (área Seri); (9) cultura Rio Sonora (parte norte) y tradición Serrana (parte sur); (10) cultura Trincheras; (11) noroeste de Sonora. La distribución geográfica de cada cultura es aproximada. Tomada de Phillips (1989, Fig. 2) con el permiso de la revista Journal of World Prehistory.
Archaeological areas of northwest Mexico: (1) northern Durango and southern Chihuahua (Loma San Gabriel culture); (2) central Chihuahua (Bustillos culture); (3) Casas Grandes culture; (4) northeast Chihuahua (Jornada branch of the Mogollon culture); (5) southeast Chihuahua; (6) southwest Chihuahua; (7) coastal zone of northern Sinaloa and southern Sonora; (8) central coastal Sonora (Seri area); (9) Rio Sonora culture (northern part) and Serrana tradition (southern part); (10) Trincheras culture; (11) northwest Chihuahua. The geographic distribution of each culture is approximate. Reproduced from Phillips (1989, Fig. 1) with the permission of the Journal of World Prehistory.
---
Última revisión/last revised 3 de enero 2011.
Please report problems to dap@unm.edu