David A. Phillips, Jr., Ph.D., RPA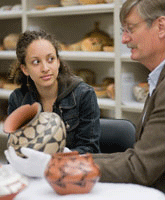 Dave Phillips is Curator of Archaeology at the Maxwell Museum of Anthropology and a research associate professor in the Department of Anthropology, University of New Mexico. Born and raised in Latin America, he has been involved in archaeology for 44 years, including 22 years in CRM. His 1979 dissertation on Postclassic Maya artifacts was based on fieldwork on the island of Cozumel. Most of his fieldwork has been done in Arizona and New Mexico but he has also worked elsewhere in the U.S. and in Chihuahua, Mexico. His current research interests include quantitative modeling and the site of Pottery Mound.





---
Temporary link: Jim Rock's study of log cabins.
---
Arqueología del Noroeste de México (bibliografía y ensayo)
Archaeology of Northwest Mexico (bibliography and essay)
---
Adoption and Intensification of Agriculture in the North American Southwest: Notes toward a Quantitative Approach (American Antiquity 74(4), 2009, pp. 691–707). (PDF)
---
The Chaco Meridian: A Skeptical Analysis is the revised version of the companion document for a poster presentation at the 2000 meetings of the Society for American Archaeology.
---
How Big Was Paquime? is the companion document for a poster presentation (with Elizabeth Arwen Bagwell) at the 2001 meetings of the Society for American Archaeology.
---
An unpublished paper (with Elizabeth Arwen Bagwell), The Construction and Occupation of Unit 11 at Paquimé, Chihuahua. (PDF)
---
The End of Casas Grandes, revised from a paper presented at the 2008 annual meeting of the Society for American Archaeology. (PDF)
---
Fred Wendor's important but hard-to-find account of the origins of highway archaeology in New Mexico appears here.
---
Highway Salvage Archaeology: The Personal Dimension, a paper presented to the Arizona Archaeological Council Conference on "Contributions to Highway Archaeology, 2003," Tempe, Arizona, May 16 and 17, 2003. (PDF)
---
Results of the ACRA-L poll on the origins of private-sector CRM.
---
Rethinking Chaco. This is a slightly revised version of a paper prepared for the 1993 Chacmool Conference.
---
If you're willing to provide feedback on an online exhibit being built (slowly) for the Maxwell Museum, please visit The Testimony of Hands. Your assistance will be acknowledged!
---
The Arch Hurley Conservancy District: A Study in Persistence, an unpublished paper prepared in 2002. (PDF)
---
Pottery Identification Links Page
---
Recreational hike: Mesa Portales
Recreational hikes in the Jemez Mountains: Upper Virgin Canyon and San Miguel Mountain.
---
Page last revised on January 21, 2015.
Please report problems to dap@unm.edu