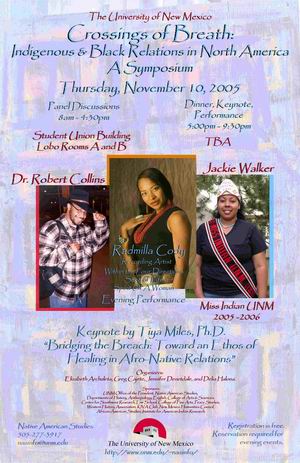 "By sharing breath we are also sharing a part of what gives us life."
What: A cultural exchange symposium at the University of New Mexico in Albuquerque.

This gathering is part of an emerging scholarship that is changing the ways in which we have viewed race and cross-cultural relationships between Native Americans, Whites, and African-Americans. Much of the existing scholarship has focused on the southeastern U.S. and Oklahoma even though a history of Indigenous-Black relations exists in the Southwest, and these relations deserve to be explored.

This daylong symposium encourages scholarly investigation of the historical and cultural exchanges between Natives and Blacks and dialogue about the politics of identity and tribal sovereignty.

When: November 10, 2005

Where: Student Union Building, Lobo A and B (location may change; watch website for more information)

Time: 8:00 -4:30 and 5:00-9:30 (Hibben Center)
Conference Organizers: Jennifer Denetdale, Elizabeth Archuleta, Greg Cajete, and Delia Halona
Sponsors: UNM President's Office, College of Arts & Sciences, Native American Studies, UNM School of Law, Institute for American Indian Research, History, English, Center for the Southwest, Peace Studies, Kiva Club, College of Fine Arts, New Mexico Humanities Council, African American Studies, and Western History Association.