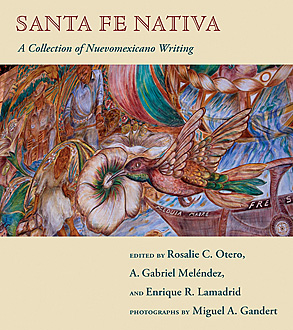 Santa Fe Nativa Recognized with Tucson-Pima Southwest Book of the Year Award
Books written and edited by faculty of the University of New Mexico Honors Program and Departments of American Studies and Spanish and Portuguese have been featured recently in the list of must-reads and notable books on the Southwest Books of the Year, as selected by the Tucson-Pima County Public Library. Santa Fe Nativa: A Collection of Nuevomexicano Writing edited by UNM faculty members Rosalie C. Otero, A. Gabriel Meléndez and Enrique R. Lamadrid was one of 15 titles selected as "Best Reads" of 2010. Divided into nine parts, this anthology honors Santa Fe's role as a unique geographic and symbolic center for New Mexican Hispanic culture. Panelist Patricia Etter said, "Here are wonderful Santa Fe stories written through the ages. They celebrate the city's 400th year and honor its contribution to the foundations of Nuevomexicano culture, with themes that include observations of change over time, lament for the past, and traditions that have stood the test of time. More than 30 authors contributed stories in English and in Spanish that range from a curandera's recipe for a lovelorn ex-husband to the romance of the chili pepper, with many delightful stops in between." Rosalie Otero is the Director of the University Honors Program; A. Gabriel Melendez is a faculty member in the American Studies Department and Enrique Lamadrid is the Chair of the Department of Spanish and Portuguese. Honors Program faculty member VB Price's recent book The University of New Mexico (with photographs by Robert Reck) was also included in the "Notable Books" list.



Pasó Por Aqui series receives 2009 State Historian's Award for Excellence in New Mexico Heritage Scholarship

Pasó Por Aqui is a series of publications devoted to the Neuvomexicano Literary heritage
and has been published by the University of New Mexico Press since 1991. The series
will be honored with the State Historian's Award for Excellence in New Mexico Heritage
Scholarship. The series has published out-of-print Hispanic literature that might have

been lost to future generations, with Historia de la Nueva Mexico an epic poem about
Onate's expedition to "New Spain" by Gaspar Perez de Villagra originally published
in 1610 launching the series. Pasó Por Aqui also emphasizes living history and has
published editions of new fiction and poetry by Hispanic New Mexican writers and
photographic essays that document Indo-Hispanic folk rituals and cultural practices.



Juan the Bear and the Water of Life
received the 2010 Library of Congress Children's Book of the Year


Hermanitos Comanchitos
received the 2005 Southwest Book Award and the 2004 University of Chicago Folklore Prize