Fat tire bikes from the 1930's - 1950's, such as this one (except usually the boys' models), were the starting point of the mountain bike.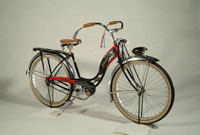 Image from the Smithsonian
Visit the Smithsonian Web page for this item to read the full description.
This is what some high end mountain bikes look like today. What a change!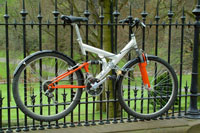 Image from freefoto.com
In the 1970's, the 10-speed was a popular style of bike for commuting to work and for road touring. It was a road bike, though, with narrow tires. It was not suitable for riding off-road. Several people wanted to have even more fun than road bikes allowed: riding bicycles on dirt trails and mountainsides.
The balloon-tire or "fat tire" bikes of the 1930's - 1950's not only had wide tires but also sported heavy, durable frames. Action-seeking adults bought large numbers of these older bikes and began riding them down mountain trails. After all, the young people had their BMX "dirt bikes." What was keeping adults from having fun, unconfined to roads, as well?
Though the downhill ride was great fun, most of these safety bikes were durable enough but otherwise ill equipped for riding up as well as down mountains. Gary Fisher, an avid biker willing to tinker, invented the Mountain Bike with gearings and parts that allowed riders greater range pedalling instead of pushing their bikes.
The Mountain Bike has evolved to include front and rear suspension, special frame shapes and many other innovations. If you are planning to buy a mountain bike, there are a few considerations to look at -- whatever its specific shape and features. Ask about these at the bike shop:
Frame size
Handlebar reach
Frame geometry
Crankarm length
Adult riders enjoying some modern mountain bikes in varieties of terrain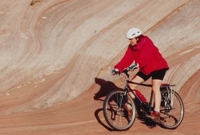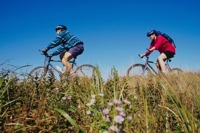 Images from clipartcity.com