The Schwinn Varsity 10-speed, pictured here, was the first "road bike" as we know them today.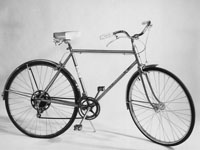 image from Smithsonian
Visit the Smithsonian Web page for this item to read the full description.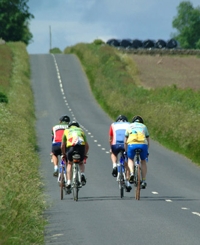 image from freefoto.com
When someone pictures a "road bike," it is probably being ridden by a known bicycle racer like Lance Armstrong. Or perhaps they remember their 10-speed from the 1970's or 80's.
Whether someone is racing, touring or just cruising town, most who ride road bikes choose this type of bike and select their bike, for a lot of the same considerations. They want a smooth, efficient, fast ride on hard surfaces. These considerations affect the design.
Road bikes are streamlined. The shape of the bike and all of its components are designed to cut wind resistence. This means narrow tires, narrow, curved brake components and handlebars. Even modern frames are shaped to look much like the wing of an airplane.
Road bikes are also lightweight. The shift from to aluminum in bike frames was a step forward in making bikes lighter. Even more important is the weight of parts that rotate. The weight of wheels, especially, feels greater than their actual weight -- you can feel the difference of just a few ounces as you pedal.
If you are in the market for a road bike, to ride for fun or to try to enter competitive road racing, visit a good bike shop near you, and also talk to members of a cycling club to see what they recommend.
This model sports the familiar curved handlebars of later and current road bikes. This design allows the rider a choice of riding positions. Either position is streamlined, as seen in the image of a rider in the higher stance, below.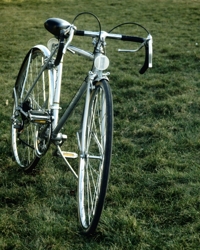 image from clipart.com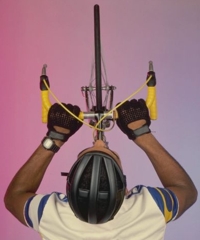 image from clipartcity.com