Soundpack
The best basketball pep band in the southwest, Soundpack performs at all home Men's and Women's Lobo Basketball games in the world-famous "Pit". Soundpack adds a dimension of energy that has helped make University Arena one of the top sports venues in the United States. Soundpack also follows the basketball teams to post-season tournament play and has appeared at the NCAA Basketball Tournament in Richmond VA, Pittsburgh PA, Nashville TN, Hartford CT, Tucson AZ, Denver, CO, and St. Louis, MO.

Soundpack is comprised of wind instruments, drumset  percussion and electric bass players. The band is open to all UNM students by audition only. Auditions are held in the fall and musicians will be assigned to each game. Every effort is made to accommodate scheduling requests, but it is up to each member to find a replacement if they are unable to make a scheduled game.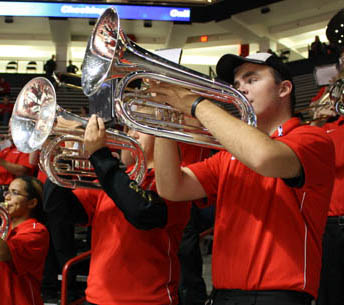 All members will be paid $20.00 per game up to a maximum of 40 players. The drumset and electric bass players will receive $30.00 per game to compensate for time spent hauling their equipment. All required tax forms must be on file before payment will be processed.
Tournament bands will be chosen by the director in consultation with the conductors. Members will be assigned to post season play through a formula based on seniority, instrumentation, and attendance.

Soundpack provides an Athletic Band polo shirt to all members. Members will be required to provide black pants, black shoes, and a black belt. Shirts are to be tucked in. The uniform is required at all events. If a member shows up to a game without the uniform they will be unable to participate.

Soundpack Travel Policies
Soundpack travel is fully funded by the UNM Athletic Department. Soundpack represents the University of New Mexico and the UNM Athletic Department and abides by Athletic Department policies regarding conduct for spirit groups.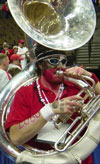 Members of Soundpack are expected to conduct themselves in an appropriate manner at all times during travel and adhere to Athletic Department requests. This includes following a strict no alcohol policy at all times for all members of the traveling party, regardless of age. Soundpack members are expected to be punctual for all events and travel, and wear appropriate attire for all official events. Active participation in cheering for the Lobos at games is encouraged while setting a standard for good sportsmanship.
The image of the University of New Mexico is a direct reflection of the image student athletes, spirit squad, and band members demonstrate at official events and at all times while traveling at post-season events. We appreciate your use of good judgment and adherence to these policies.