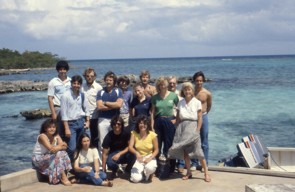 Lynn (2nd from the left, bottom row)
at Discovery Bay Marine Lab, Jamaica,
March 1982; her first opportunity
to examine sea urchins for worms!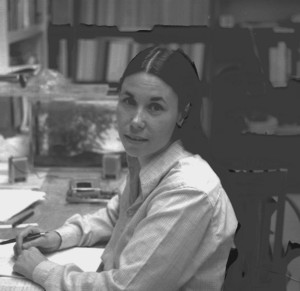 Young Lynn, ca. 1984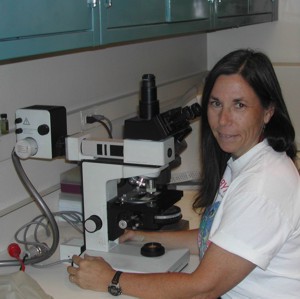 Lynn at her microscope, ca. 1990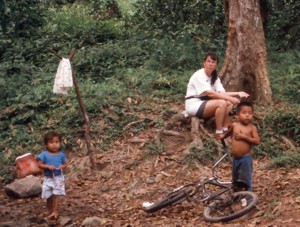 Lynn with two Mayan children in Belize,
March 1997, on another field trip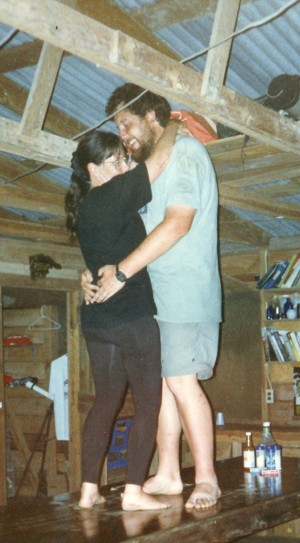 Lynn and Wade Wilson, dancing on the table,
Possum Point Field Station on the Settee River,
Belize, 1997

Lynn was born in Waterbury, Connecticut on August 14, 1951, and died from pancreatic cancer on Saturday, April 2, 2005 at age 53. She is survived by her husband, Gene, and two children Jessica, 22, and Justin, 17.
After earning her nursing degree (R.N.), she and Gene moved to Albuquerque in 1973, where she served as a staff nurse in the intensive care unit of Presbyterian Hospital, from 1973–79. She earned her B.S. from UNM (1982) with a major in Biology and a minor in Art. After taking my parasitology class, in 1983 she began in my graduate program and completed her M.S. in 1986. Shortly thereafter, she began a nearly 20-year collaboration with E. Sam Loker, playing a key role in organizing and designing many of the projects undertaken as part of his research program. In 1999, while continuing her research-related duties, she entered the Ph.D. program in our department and was awarded her Ph.D. with distinction in 2004. During her productive scientific career, Lynn authored or co-authored 22 scientific papers or book chapters and was a strong intellectual contributor to the NIH-funded projects that supported the Loker lab. She also was an accomplished artist; from 1982 to 2003, she produced 191 scientific drawings that appeared in 37 publications, including eight different journals, three monographs and two book chapters, involving 45 different authors. The breadth of her work was amazing: parasites of sea urchins, systematics of coccidian parasites of mammals, biology of digenetic trematodes and freshwater snails, and the biology of snail-transmitted schistosome parasites that infect humans throughout much of the tropical regions of Africa, Asia and South America. She was known for an utterly unflappable and nurturing demeanor, and for steady and persistent effort that paid off with surprising and novel scientific dividends. She had a happy, full and complex life with the many people she shared it with. Everyone who knew her, including most of my graduate students, are proud to say that we had the opportunity to be a part of her life. Winston Chruchill must have been thinking of someone like Lynn when he said, "We make a living by what we get. We make a life by what we give." That was Lynn Hertel.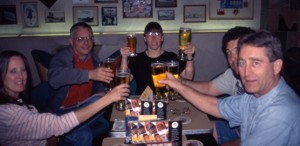 Lynn (center) with Lee Couch and Tim Lowrey (left)
and Wade Wilson and Don Duszynski,
preparing to leave for Belize, March 1997