The Stone Team is currently involved in ten research projects across the western United States and abroad. Please take a look at our project overviews and feel free to contact us with questions or feedback.
Rio Chama Environmental Flows
The Rio Chama is the largest tributary to the Rio Grande and an important water source for New Mexico. Besides providing drinking and irrigation water, the Rio Chama also supports many other uses including hydropower, whitewater rafting, fishing, and riverine ecological systems. Current research efforts are examining the impacts of El Vado and Abiquiu Reservoir operations on the variety of water users on the river. The long-term goal of the research is to provide recommendations to management agencies on how to maximize overall benefits of reservoir operations.
Subtask 1 - A systems dynamic (SD) model is being developed to examine the impacts of new operation scenarios on the Rio Chama. The SD model includes ecological processes, such as riparian recruitment and geomorphological sediment transport, hydropower production, and whitewater rafting. A semi-stochastic modeling approach is being utilized to take advantage of long-term historical records and to determine statistical trends resulting from operational changes.
Subtask 2 - Anthropogenic variations in the natural flow regimes, especially from dams, have not only effected the flow of the rivers, but the functionality.  There is less sediment transport and natural highs and lows are changed in both magnitude and timing, which change the dynamic movement of the river and habitat for native species.   The goal of vegetation modelling for the Chama River is to determine what flows are needed for establishment of native vegetation in the floodplain, while inhibiting establishment of invasive and upland species.

Subtask 3 - The goal of this subtask is to relate brown trout habitat to sediment transport on the Rio Chama at the Archuleta and Cebolla sites, located between El Vado and Abiquiu Reservoirs.  Both fine sediment samples and wolman pebble counts have been taken at each site.  This data along with a hydraulic model will be be used to evaluate boundary shear stress and incipient motion for a range of flows within SRH-2D that meet brown trout habitat needs.
Students: Ryan Morrison (PhD), Angela Gregory (MS), and Amelia Symonds (MS)

Sponsor: New Mexico Environmental Department

Partners: Rio Grande Restoration, GeoSystems Analysis, TetraTech, and BLM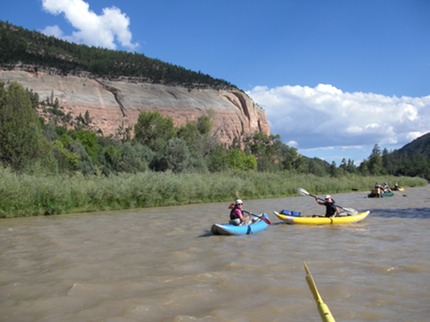 Gila River Wetlands Study
The state of New Mexico received an additional 14,000 AF/year of water on the Gila River, as an outcome of the Arizona Water Settlement Act. This research is focused on quantifying the impacts of various alternatives of withdrawing this water on the hydrology of riparian wetlands (1 natural and 1 artificial) in the Cliff-Gila valley. A network of piezometers and monitoring wells will be installed to gauge the connectivity between the river and the wetlands, with a hydrologic budget being the primary output for both sites. An extension of this work includes investigations into the ecology of the wetlands (i.e. algae, benthic macroinvertebrates, birds, flora, and water quality), to provide insight into how these communities may be impacted from the additional withdrawals. 
Students: Jeffrey Samson (PhD) and David Forster (MS)

Sponsors: New Mexico Interstate Stream Commission, U.S. Bureau of Reclamation

Partners: The Nature Conservancy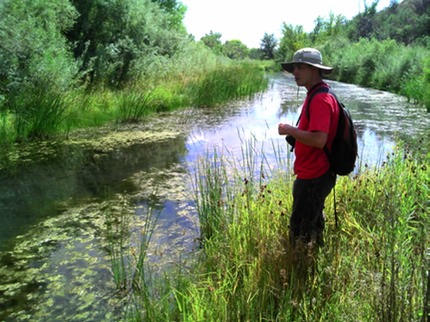 Geomorphic Reclamation of Mines: La Plata Mine
Geomorphic reclamation is a mine reclamation method in which constructed landscape features are designed to be similar to surrounding natural formations. This design approach creates reclaimed land that is more stable than traditional reclamation practices. With a grant from the Office of Surface Mining and the support of BHP Billiton, this research aims to investigate the effectiveness of geomorphic reclamation at La Plata Mine in northwest New Mexico in comparison with a natural system nearby. In addition to comparing reclaimed and natural systems using field measurements, the watershed models WEPP and SEDCAD are being used to determine the effectiveness of models in describing geomorphic reclamation processes as well as to simulate future watershed response to land cover change, climate change, and wildfire.
Students: Colin Byrne (PhD), Shahed Rahman (MS), and Rachel Powell (MS)

Sponsors: Office of Surface Mining, U.S. Department of the Interior

Partners: Co-PI - Dr. John Stormont, UNM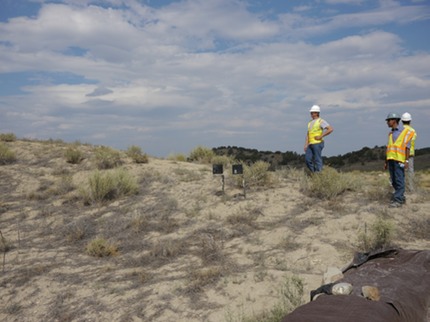 Quantifying the Ecosystem Service of Floodwave Attenuation
Subtask 1 - 1D and 2D Floodwave Modeling: One-dimensional flood routing models are commonly used to address practical and theoretical questions associated with flood wave routing. However little research has been done to address these same questions using more sophisticated two-dimensional flood routing tools.  This project will focus on developing both a 1-D (HEC-RAS) and 2-D (SRH-2D) flood routing models to determine the effects of riparian vegetation and channel modifications (river engineering) on the attenuation of a flood waves through a portion of the Gila River and its corresponding floodplain.  The results of the two models will be compared to evaluate how accurately a one-dimensional model simulates flood routing through a system.
Student: Gena Slape (MS)

Sponsors: The National Science Foundation
Subtask 2 - Evaluation of Vegetation Roughness Routines:
Student: Harris Nassam (MS)

Sponsors: The National Science Foundation

Partners: The Desert Research Institute and USBOR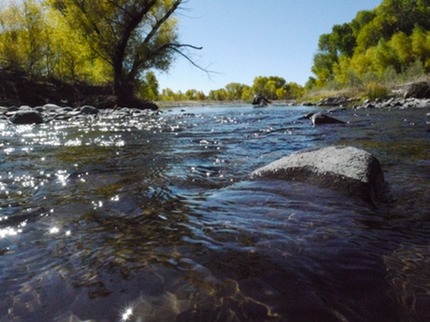 Riparian Vegetation Mapping and Modeling of the San Joaquin River Floodplain 
Riparian vegetation plays an important role in flood attenuation in natural channels.  Determining a Manning's n value for hydraulic analysis can be a difficult and sometimes ambiguous task in this setting. This research focuses on the use of field measurements of vegetation parameters in conjunction with hydraulic computer modeling in order to determine a Manning's n value for the floodplain.  A field protocol has been developed for determining vegetation height, diameter, density, and leaf area index while a model is being developed for use in SRH-2D.  This research is intended to develop a better understanding of open channel hydraulics and help map the floodplain more accurately.  
Student: Tyler Gillihan (MS)

Sponsors: U.S. Bureau of Reclamation

Partners: The Desert Research Institute and USBOR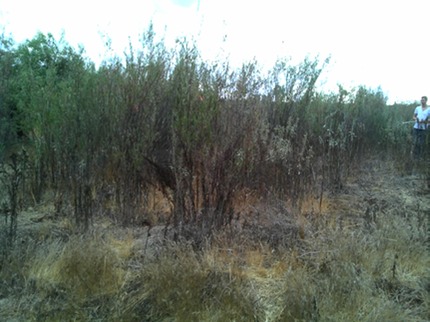 Impacts of the Las Conchas Wildfire on the Hydrology of Peralta Canyon
We have entered into a cooperative assistance agreement with the Bureau of Land Management (BLM), to investigate the effects of the 2011 Las Conchas wildfire on the hydrology and sedimentology of Peralta canyon, which is located adjacent to Pueblo de Cochiti and Kasha-Katuwe Tent Rocks National Monument.  Approximately fifty percent of the upper portion of the watershed has been effected by the wildfire -- drastically changing peak flows seen in Peralta creek, impacting monument management, as well as jeopardizing downstream infrastructure in the monument and greatly increasing the flood risks seen by the Pueblo de Cochiti.  This project was entered into with the larger picture goal of better understanding wildfire impacts on hydrology, as the frequency of wildfires in the southwest United States is increasing.
Student: Robert Trujillo (MS) and Savannah Martinez (BS)

Sponsor: U.S. Bureau of Land Management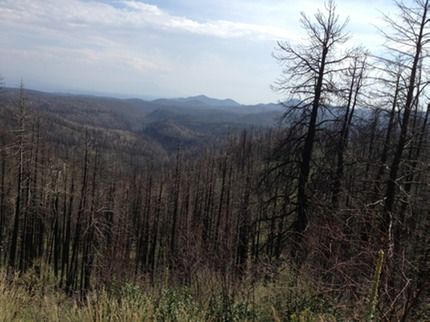 Systematic Evaluation of Uncertainty in Integrated Climate Change Risk Assessments
With the coexistence of deterministic and stochastic simulations as applied to hydrological processes, it's important and necessary to comprehensively and quantitatively describe the influence of uncertainty on the simulation process. Factors contributing to the uncertainty of predictions include parameter, model structure, and scenario uncertainty. The goal of this research is to explore the mechanisms for increasing the robustness of climate change impact studies by explicitly accounting for major forms of study uncertainty. We will also evaluate uncertainty in the study of wildfires in NM. This will be collaboration with LANL to build on the complementary expertise of this field.
Student: Lijuan Jia (PhD)

Sponsor: Los Alamos National Laboratory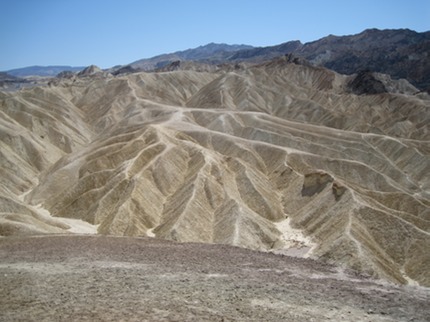 Enhanced Dust Production Forecasts using Soil Moisture Models
The objective of this research is to demonstrate the use of a spatially explicit hydrologic model to improve descriptions of dust emissions in desert environments. Dust storms have steadily increased in frequency and severity in the southwestern United States as a result of land use practices and climate change. However, predicting dust events in both the short and long-term remains a challenge. 
Student: Lijuan Jia (PhD)

Sponsor: New Mexico Space Grant (NASA)

Partners: Co-PI, Dr. Karl Benedict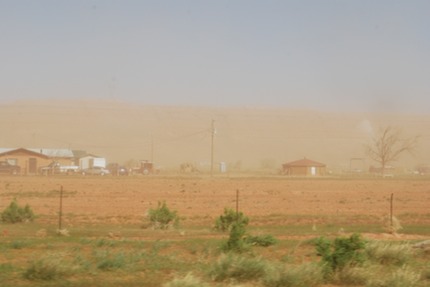 Consumptive Water Use in Energy Production
Energy production has long depended on water resources for not only the extraction and transportation of fossil fuels but also production of thermo electric and solar power.  With Energy production having a large interdependency on a resource that is becoming a less abundant resource this relationship still does not have sufficient studies and data collected as to the consumption and withdrawal demands.  This study will be investigating the best available information on this subject and validate if it is sufficient for future predictions and models that are currently being published about the Water-Energy Nexus.
Student: Kent Steinhaus

Partners: Sandia National Laboratory
Floodwave propagation and infiltration in desert regions: The Azraq Basin, Jordan 
Providing a secure water future for Jordan in the face of rapid population growth and decreasing availability of water will require innovative progress in all aspects of water resource management, including the identification of underutilized resources. Ability to improve the efficiency of measures to deal with floodwaters, particularly in a low cost fashion, has the potential to rapidly advance this important development challenge for Jordan and the rest of the Middle East. This project will investigate holistic management of floodwaters in Jordan to better understand how this natural hazard can instead be viewed as a valuable natural resource. 
Sponsor: 

National Academy of Science, Partnerships for Enhanced Engagement in Research (PEER)

Partners: Dr. 

Mo'ayyad Shawaqfah, Al al-Bayt University