+ Current Projects
+ Lab Directors
+ Graduate Students
+ Research Staff
+ Interventionists
+ Former Lab Members
+ Links
+ Recent Publications
+ Contact Us
Courtney Stevens
---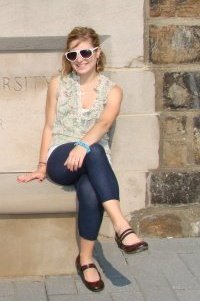 Degree:
B.A., Psychology, University of New Hampshire, 2010

Research Interests:
My primary research interests concern health behavior promotion; specifically I want to focus on addressing the issue of low exercise participation nationally. I am interested in the potential for mood improvement experienced during, and immediately post exercise to be used as a motivational tool for increasing physical activity in everyday life. I would also like to explore the possibility of combining mindfulness mediation with exercise as a way to increase self awareness of the psychosomatic changes experienced during and after exercise. My goals are to develop ways of re-framing the health benefits of exercise so that they will be perceived as more salient, immediate, enjoyable and achievable particularly among clinical and sedentary populations.

Responsibilities:
My responsibilities in the SHERPA lab include: assisting with grant-funded research and developing studies involving exercise responses among clinical populations including those who are obese.

*Currently at University of Colorado Boulder

About Me:
I hail from New Hampshire, where I grew up ski racing and so I am very excited to be making the move west for graduate school! Recreational interests of mine include, hiking, cross country skiing, cycling, running, yoga, and teaching others how to hula hoop. In leisure I love attending music festivals and concerts, camping, reading, and spending time with my boyfriend, family, and dogs.